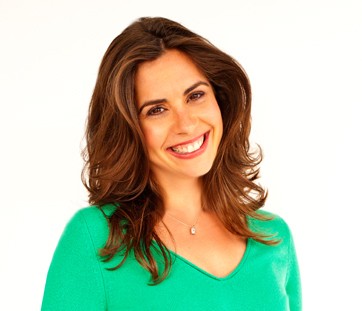 by Gina Scarpa

On tonight's episode of The Biggest Loser, the contestants are paid a visit by season 11 winner Olivia Ward as well as cookbook author Devin Alexander. Her latest book, The Biggest Loser Quick and Easy Cookbook, hits stores today and we sat down to talk to her in an exclusive interview about some of her yummy dishes, her reasons for getting involved with The Biggest Loser, and what viewers at home can take away from her style of cooking.

Q. Gina, RealityWanted: What brought you to work with The Biggest Loser?
A. Devin: Well I lost 70 pounds myself and I had a book coming out through the publisher that they were working with. The show was looking for someone who had been on television, had a cool platform about healthy food, and who obviously believed in the brand which, all of the above, I did!

Q. Gina, RealityWanted: What makes your healthy cooking so different from other healthy cooking we've heard or read about before?
A. Devin: I am obsessed with food and I really want to eat what I want to eat. I figured out how to do that in a healthy way. So instead of taking a Grandma's lasagna recipe and saying, "You can't have sausage," I figure out how to make the sausage from extra lean ground pork and season it properly, so it has that fatty consistency and put that together in a dish you can enjoy.

Q. Gina, RealityWanted: You're appearing on tonight's episode along with season 11 winner Olivia Ward. Are the two of you doing something together?
A. Devin: Yes, we're hosting a cooking competition.

Q. Gina, RealityWanted: That's fun! Speaking of Olivia, how amazing does she look?
A. Devin: It blows my mind every time to see contestants go from what they were to what they are, especially people like Olivia who really kept it off. She is like an athlete! She really is almost like a skinny girl and I mean that in the best sense of the word. She looks hot!

Q. Gina, RealityWanted: What can Biggest Loser viewers sitting at home learn from you and your style of cooking?
A. Devin: Just that it's not supposed to be a struggle. It doesn't have to be hard and you don't have to give things up. You need to take inventory of exactly what you're eating and then separate it to the must haves, won't dos, won't do withouts, etc. Write down on that list what you really don't want to give up and then don't. That doesn't mean eat a pizza every night. There are ways to work in whatever you want. If you do that, then you'll set yourself up for long term success. There's something for everyone in The Biggest Loser cookbooks.

Q. Gina, RealityWanted: Your new cookbook hits stores today, right? Can you tell us a little bit about it?
A. Devin: Yes, it's out today. It's basically everything from chili rub to pot roasts to London Broil, believe it or not, in 20 minutes. There's all kind of desserts. I even did sweet potato no skins which are basically instead of doing potato skins, I did pieces and loaded up all the stuff that you would want on it. It's not like, "Oh, it's the broccoli casserole again." The best part about this book is that you can entertain with so many of these dishes. I'm having people over to watch the episode over tonight and I'm doing dishes that I did in the book. My friends know I only cook healthy stuff and they get mad at me if I try to do unhealthy stuff because they know they're going to have an amazing, healthy meal when they come over.


The Biggest Loser airs Tuesdays at 8/7c on NBC.

(Image courtesy of Devin Alexander)


Follow Gina @ginascarpa and "Like" her on Facebook!