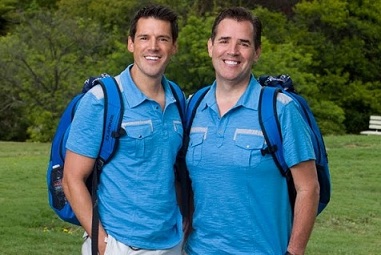 by Gina Scarpa
On Sunday night's episode of The Amazing Race, the competition got tricky when they left a small note at a task, located at an orphanage in Indonesia, and overlooked by most. Among those teams were Ron and Bill and after a few unfortunate cab drivers, it was enough to knock them out of the running for a million dollars. Today, we caught up with the pair in an exclusive interview to learn more about the experience of running The Amazing Race.
Q. Gina, RealityWanted: Whose idea was it to try out for The Amazing Race?
A. Bill: It wasn't my idea but I think for years, I've wanted to do it and I was always interested. Ron was always supportive but we didn't ever think we'd ever get on. I was hooked since Season 1 in 2001.
Q. Gina, RealityWanted: Traveling around the world, with little time to rest, can be very stressful on the teams. As flight attendants, did you find it any easier?
A. Ron: Because we are so many times out of our own time zone, we were able to adjust pretty quickly. The actual stress of competing was another story. When it came to managing the stress of travel, we did pretty good with that.
A. Bill: We're not high stress people in our daily lives. We do very well as a couple. I think that really benefitted us, just how we responded to the different challenges.
Q. Gina, RealityWanted: That actually brings me to my next question. Though we didn't get to see a whole lot of you, it seemed that you got along very well with one another. Did you try to make sure not to let the stress of the race get to you?
A. Bill: I'm glad you asked that. What you saw is who we are. I know that every season, there are those couples that explode and lose it and we knew we wouldn't be that couple. We didn't go in trying to hide something or be something we weren't. When we were stressed, we dealt with it. We never said to ourselves, "We need to put up this perfect image," because we do have frustrations but we don't function that way. I'm so thankful that CBS put together the ending the way that they did because it truly caught the essence of who we are.

Q. Gina, RealityWanted: You got off to a rough start on the race, checking in near the bottom of the pack during the first leg and being eliminated in the second leg. What was the toughest thing for you?
A. Ron: The thing that we encountered that we had dreaded was the cab situation. It seemed like that factor really started to play a major part in our running the race. We had two cab problems in Taiwan and you're thinking, "Oh I don't want this to weigh heavily on us," but then when we arrived in Indonesia, we experienced it yet again. Shortly after leaving the train station in a pretty desolate area, we realized he absolutely did not know where he was going. We couldn't make that time up at the spelunking task.
A. Bill: We know that the cabs are the unknown in the race and always have been but truly, we only had one cab that got us where we needed to go. We were ready to deal with it but we had no idea how much it would affect us. Aside from the orphanage, we had never made a mistake. It really did alter our course.
Q. Gina, RealityWanted: That was a little sneaky of the race to throw that sign up at the orphanage to hand over the rest of your money, wasn't it?
A. Bill: Had we caught that, it would've corrected everything that happened to us and would've been an unbelievable moment. Our goal in the race was to seize the moment and not have it just be about winning a million dollar. When we took the money to the orphanage, the girls were yelling and clapping. There was a celebration and we wanted to embrace that moment more than anything. We sat there and visited for a moment and then we were on our way. There's no way we would've ever seen that sign. It was about the experience.
Q. Gina, RealityWanted: What teams are you rooting for?
A. Ron: I really am pulling for Jeremy and Sandy. They're a great couple that we got a chance to talk to and meet. They were very supportive. Anybody else?
A. Bill: Every year, you see how some teams get along and don't get along. There was not a team that we didn't like. I mean yeah, emotional favorites make us pull for one over the other... definitely, I have some favorites.

The Amazing Race airs Sundays at 8/7c on CBS.
(Image courtesy of CBS)

Follow Gina @ginascarpa and "Like" her on Facebook!