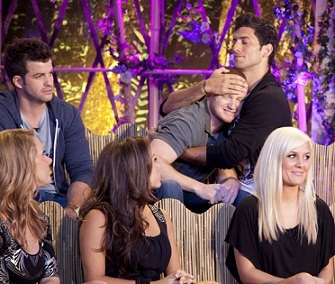 by Gina Scarpa
Things get started on the reunion episode of The Challenge: Rivals with a revisit to the final episode. That challenge was two days long and Johnny was just praying it would end already. Jenn was relieved when her team was DQ'd and Leroy admits that he gave up long before Mike did.
Speaking of Mike, he and Leroy were definitely a standout rookie team and they pointed out that the never lost a challenge. They always did better than someone else. True enough!
The first person to be in the hotseat is Kenny, who underperformed big time this season. When they lost the final challenge, he blamed Wes but he defends himself, saying he carried his partner through a majority of it. Wes tried to say he had faith in Kenny, but Ev jumps in and calls him a liar, saying he talked junk about him all over the house. On a side note, Wes does win the award for Most Embarrassing Moment for being carried up the mountain by the person he hates most in this world.
Time to look at some of the best fights of the season: Wes and Paula vs. Cara Maria and Laurel, Mandi and Jenn vs. Cara Maria and Laurel... hmm, I detect a theme here. Jenn and Laurel really go at it after the video is shown, then Laurel takes some major heat for bringing up Paula's anorexia on the show. As she tries to apologize, Paula and Jenn laugh at her. Maria finally steps in, calling Laurel's behavior unacceptable, as well as Wes's behavior for the soda incident. Yeah Maria! Tell 'em like it is!
Let the debate begin: Is CT a nice guy or a dirtbag? CT says the show can portray him any way it wants so long as he gets to go on trips around the world. He apologizes, yet again, to Adam for his past behavior. When Johnny starts to attack him, Ev butts in and says that the guys gang up on him because they're all scared of him. Won't one of the guys just admit that it's a little bit true? Adam actually breaks down, after calling CT the number one person he'd do a challenge with. Aww, they're friends!
Maria asks some of the rival teams if they're still at odds or if they've buried the hatchet. It seems Laurel and Cara Maria have become friends, Ev says she'd take Paula again as her partner any day, and Johnny and Tyler are so close that they've even shared a be.  Ev names the newest rivals: Paula and Laurel, Jenn and Cara Maria, CT and Johnny or Wes, and Kenny and Tyrie.  Oh yeah, Tyrie was on the show.
Let's name all the hookups this season.  Try to keep up.  CT and Mandi, Jenn and Adam, CT and Laurel, Wes and Mandi (still shaking my head at that one), and the one they didn't show on the reunion, Paula and Big Mike.  Jenn admits that the things she said about him were harsh - that's an understatement.  Adam said that he thought things were going to continue after Argentina, but Jenn just starts shouting at him and humiliates him then drags Laurel's dirty laundry on air.  She really needs to take it down ten notches.
Finally, some footage you didn't get to see on the show which consisted mostly of nudity, random makeout sessions, lots of pranks, and the occasional pillow fight.  Everyone shares their favorite moments and then, it's time to say goodbye to The Rivals... unless, of course, you want to tune in next week for The Sh*t They Should've Shown!

(Image courtesy of MTV)

Follow Gina @ginascarpa and "Like" her on Facebook!