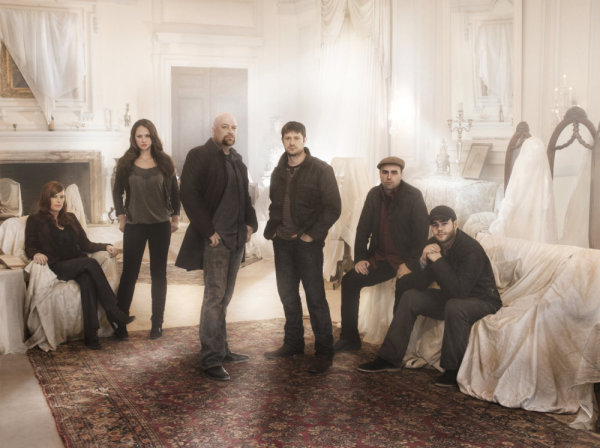 by Chad Alan
Hill View Manor - New Castle Pennsylvania
The Hill View Manor housed the county's homeless, elderly, and disabled population.  It finally closed in 2004 but the current caretakers believe its past residents never left.   Built in 1926, the building has succumbed to the harsh winters of the northeast and its inner structure is a shell of itself.  The Manor has had a rough history with many stories of suicides.  People have slashed their wrists, hung themselves, and jumped off the roof of the building. An apparition of a little boy was said to appear right before someone was going to die. Disembodied voices and sounds of shuffling in the hallway are common reports, as well as, full bodied apparitions appearing out of doorways.  Although no one has seemed to be violently harmed, some people have reported fingers stroking their arm.   The current staff believes they have caught a ghostly image on their security camera and TAPS could not debunk what they saw on the video.
TAPS co-founders Grant Wilson and Jason Hawes were the first to investigate the Manor.  A metal garage like gate began rattling and then it stopped. Didn't make any sense why it would start or stop.  They went to the main area with their Ghost Hunting dog, Mattie.  Mattie was clearly fixated at something down the hall.  Dogs are said to have a sixth sense.  As they slowly walked down the hall, Mattie clutched to their side as if they were her safety blanket for whatever was there with them.  They got to the end of the hall and all seemed calm until something scared the heck out of Mattie and startled everyone.  It was as if something had jumped out at her.  They finished up in the cafeteria and were getting frequent knocking sounds to questions they were asking.  This was a common theme throughout the investigation.
Amy Bruni and Adam Berry headed to the third floor, considered to be the most haunted area, and set up many pieces of equipment.  Their K2 meter started lighting up and when Amy looked down the other end of the hall, she noticed something in a door window appear then disappear.  Adam bravely closed in on the door and when he looked through the door window he saw a shadow figure dart away.  They headed to the area that Grant, Jason, and Mattie the dog had their interesting experience.  They tried the flashlight game, trying to get the spirits to turn on small flashlights, in response to their questions.  They got their responses and left after promising to leave if the spirits lighted up their flashlights.  Something did not want them around.
Britt Griffith joined Adam in trying to debunk a hallway where many reports of shadow figures and voices have been heard.  As they began their EVP session, their K2 meter began lighting up after they asked their questions.  They both then began noticing some shadow figure movement then noticed something go the window at the end of the hall.  After not being able to track it down, they went to room 208 where a little boy named "Jeffery" is said to hang out and play.   The staff actually leaves toys in the room for Jeffery to play with. As they asked questions, the K2 meter seemed to light up in response to their questions.  They hoped that when they reviewed the evidence, they would have some nice EVPs.
Steve Gonsalves and Dave Tango took their turn in room 208 and tried to make contact with Jeffery.  They played with the toys, tossed the ball around the room, and called out for him but they could not get any responses.  They also heard a knock to one of their questions while up on the third floor.
The team had a lot of personal experiences and a good number of these were captured on their devices. One interesting item Jason and Grant shared with the client was what sounded like a door rattling just after they were playing around with a piano. The caretaker told them that a past resident used to play the piano everyday during dinner for the residents.  Was she possibly trying to contact them?  Jason and Grant felt there was paranormal activity going on at the Manor but did not feel the safety of the staff was at risk.
Be sure to check out our exclusive interview with Barry FitzGerald, Amy Bruni, Kris Williams, and Adam Berry at this year's Reality Rocks Expo!
Ghost Hunters airs Wednesdays at 9/8c on Syfy.  Check your local listings.  HD channels offer different times for the show.
(Image courtesy of Syfy)
Contact Chad Alan at Chad@RealityWanted.com