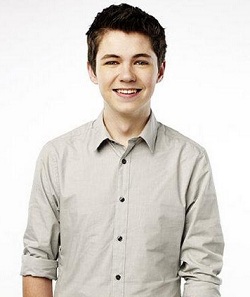 by Gina Scarpa
On the season finale of The Glee Project, it seemed like Damian came so far just to lose in the end to Samuel... until Glee creator Ryan Murphy announced that he had won as well. The Irish singer was this season's "whipping boy" but overcame all odds to win a 7 episode stint on the hit Fox show. Today, we caught up with Damian in an exclusive interview to find out about his win, his feelings about his fans, and dig for dirty on his upcoming appearance on Glee.
Q. Gina, RealityWanted: You have a lot of performance experience.  What made you want to try out for The Glee Project?
A. Damian: Well, yes, I did have performance experience with Celtic Thunder for a few years. It was amazing while it lasted but Glee is on a whole different level, of course. It's an incredible show that sends an incredible message. It's about the underdog coming out on top, and it's a worldwide hit.
Q. Gina, RealityWanted: Being part of Glee is obviously different than being part of Celtic Thunder.  Which aspect of the competition did you find the most challenging?
A. Damian: I think for me, at the beginning, it was definitely the dancing. The dancing we did on The Glee Project was serious. It was no joke. It was real! Like quite a few of the contestants, I never had dancing class. I never had a dancing background. That was definitely the most nervewracking thing, coming into the choreography classes. In the end, I realized that it wasn't about being the best dancer. It was about committing to it and selling it. I feel good about it now.
Q. Gina, RealityWanted: In the season finale, Ryan [Murphy] called you this season's "whipping boy".  What do you think about that?  Did you agree?
A. Damian: Yes, I did! To be honest... don't get me wrong, there are times I deserved to be in the bottom, like everybody. There were weeks where everybody didn't perform. During the competition, when Ryan said, "You were the whipping boy," I do believe there was an element of truth to that. Maybe they were thinking, "Damian has a lot of professional experience. Maybe he can handle pressure the best." I feel like they tried to carve me into being the underdog but it worked.
Q. Gina, RealityWanted: You seemed disappointed when it was announced that Sam won but then Ryan told you that you won as well!  That must've been a rollercoaster of emotions.
A. Damian: Yeah! Like, the whole thing was such a rollercoaster. It was the big dip on the rollercoaster when your stomach hits your mouth. Obviously, I was disappointed but genuinely happy for Samuel. I told Ryan that but then he said, "Well basically, you don't have to worry because you also won." You see my reaction. I hit the roof! It's one of those moments you can't explain. You lose all feeling and you lose all acknowledgement of breathing almost! It's crazy!
Q. Gina, RealityWanted: What's the reaction been like from the fans since the finale?
A. Damian: Oh my gosh, the fan reaction for me personally has been incredible. I've been kind of lucky. It's not common these days but I think I've avoided a lot of bad press. I don't read things, good or bad, but it's always nice to know that people like you. It's very flattering for me.
Q. Gina, RealityWanted: Is there anything you can tell us about your character on Glee?
A. Damian: I think we're meeting Ryan pretty soon. For us, it's a waiting game. We do not know a thing. It's exciting, though!
Q. Gina, RealityWanted: Anything you want to say to your fans?
A. Damian: Thank you so much! What a journey. It has been incredible. I can't say how grateful I am for this.

(Image courtesy of Oxygen)

Follow Gina @ginascarpa and "Like" her on Facebook!