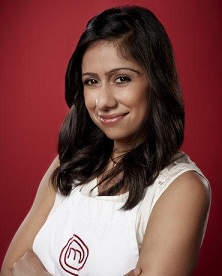 by Gina Scarpa and Todd Betzold
On Monday night's MasterChef, Suzy picked Christian as her teammate and from that point on things weren't meshing well for the two of them. The team challenge ended with a loss and then on to a pressure test consisting of making a lemon meringue pie. Even with desserts being right up Suzy's alley, she found defeat at the hands of Christian. Today, we caught up with Suzy in an exclusive interview to hear more about her MasterChef experience.
Q. Gina, RealityWanted: What made you want to do MasterChef?
A. Suzy: I was approached by one of the producers of the show at Le Cordon Bleu in Chicago about the auditions, and decided to try out. My ultimate goal is the teach people how to cook, and to not be intimidated in the kitchen and MasterChef provided a great platform for me to begin that path.
Q. Gina, RealityWanted: Was there anyone who stood out to you in the competition?
A. Suzy: All of the contestants are amazing and talented, but Adrian always stood out to me. He is so passionate about his craft.
Q. Gina, RealityWanted: So, you left your job in neural engineering to pursue cooking, what prompted that change?
A. Suzy: I have been cooking since the age of 5, and have always had so much fun in the kitchen. While I was an engineer, I would head home after working from 6AM -6PM, and would be in the kitchen until about 11PM. I decided to make the change when I realized that I was my happiest in the kitchen.
Q. Gina, RealityWanted: What was it like working with all the time constraints of the challenges and food ingredients given to you?
A. Suzy: It pushed me to keep things simple, and to experiment with various ingredients. I love to work with different flavors.
Q. Gina, RealityWanted: You made it to the top four, but lost on a dessert pressure test...how do you feel about that?
A. Suzy: I am so honored to have made it to the Top 4. It was such an amazing journey and I am appreciative of the experience.
Q. Gina, RealityWanted: What is the biggest thing you are taking away from this experience?
A. Suzy: The biggest lesson I am taking away from this experience is to not over-complicate, because you can run the risk of ruining the dish.
Q. Gina, RealityWanted: Did doing this show help inspire you to continue your dreams of cooking?
A. Suzy: Definitely! MasterChef has helped validate that being a chef is the path I belong on. I'm looking forward to making my dream a reality by teaching others how to cook.

(Image courtesy of FOX)
Follow Gina @ginascarpa and "Like" her on Facebook! Follow Todd @tbetzold!