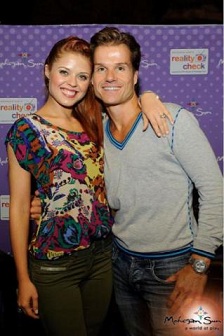 by Gina Scarpa
We're only a few short weeks away from finding out the new cast of Dancing With The Stars. The professionals and their celebrity partners will be announced soon enough but in the meantime, we caught up with Louis Van Amsel and Anna Trebunskaya at their performance at Mohegan Sun Casino to find out what they've been up to since the end of season 12 and attempted to dig for dirt on season 13.
Q. Gina, RealityWanted: What do you do during the off season of Dancing With The Stars?
A. Anna: We do some events like these. Jonathan, my husband, and I own a dance studio in Vermosa Beach, CA. That keeps us busy. My mom is the main boss and is taking care of things while we're absent. We travel and do shows and coach. Louis has somethin exciting!
A. Louis: I have a dance fitness program called La Blast which is exploding right now and takes up every minute of my time. It goes nationwide in Crunch gyms and it's going to 1500 clubs within the next year.
Q. Gina, RealityWanted: What is it like to get out and meet fans of the show?
A. Louis: It's great because when we're on the show, we have six, seven cameras in our faces. We don't really know who is behind those cameras. When you do performances like this at Mohegan Sun, you get to see the people that watch the show.
Q. Gina, RealityWanted: What are you performing tonight?
A. Anna: We are doing 3 dances - Louis choreographed all of them. We're doing a tango, jive, and chacha. We had a stage that is 2 feet wide and very high up.
A. Louis: There's nothing to hold on to!
A. Anna: It's exciting.
Q. Gina, RealityWanted: Do you have a favorite style that you prefer?
A. Louis: We enjoy dancing together because we don't have a favorite. No, they're all nice.
Q. Gina, RealityWanted: You probably can't tell me but I have to ask. Will you both be returning for season 13 of Dancing With The Stars?
A. Louis: Of course we would love to but we don't know yet until the third week of August.
A. Anna: It's a big, huge secret! They're trying to keep everything private. We don't know the celebrities. We don't have any idea.
Q. Gina, RealityWanted: What are you up to now?
A. Anna: Just dancing, teaching, being a wife once in a while! Jonathan and I are going to perform next weekend at the Vale International Convention and we'll hopefully not die from the high altitutde. We're looking forward to performing there. The day before us was the Chinese National Ballet so I'm sure they're going to have some amazing companies there.
A. Louis: La Blast, La Blast, La Blast! The website is already up for it. I'm going to Tucson to do the program there and then to New York and then I'm doing it for 500 fitnes instructors during the IDEA Convention, which is the largest fitness convention in the country.

(Image courtesy of Mohegan Sun)

Follow Gina @ginascarpa and "Like" her on Facebook!