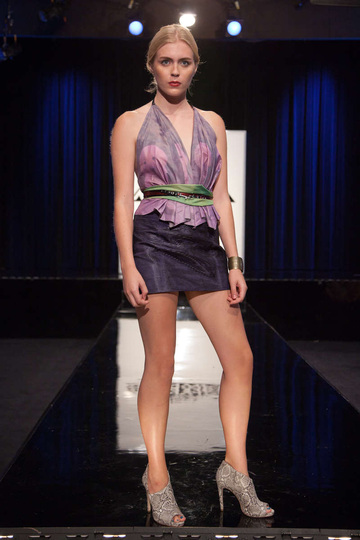 By Lindsay Strouse
Fool me once, shame on you. Fool me twice, shame on me. There was no shaming the judges last night on Project Runway, as they sent Joshua Christensen packing for sending down an ill-fitting look that displayed bad taste for the second week in a row. Today, Joshua spoke to RealityWanted about his experience on the show and how he feels looking back.
Q. Lindsay, RealityWanted: Early in the episode, you said you weren't even looking to win the challenge this week - you just wanted to "get by." Do you think that mentality had anything to do with how this challenge went down?
A. Joshua: Definitely. I should've been full forced, but it was such a crazy moment from the first episode.
Q. Lindsay, RealityWanted: How do you feel about the designers who ignored Tim's advice and went straight for the conventional materials like dog beds?
A. Joshua: It was strange because [the judges] came at me for using conventional materials but a lot of other people used conventional materials. For me, the challenge was about using materials from the store. I used everything from that came from the store and I thought that was what the challenge was supposed to be about. I think I had a different mentality about it.
Q. Lindsay, RealityWanted: On the first episode, you said you made a drastic career change from banking to fashion design. What spurred the change?
A. Joshua: You get to a point in your life when you have to decide if this is making you happy. And I was not happy. So I started looking at different creative jobs. I even looked at going back to school for architecture or creative design. I talked to some old professors and did art history for my bachelors, so it just came up that fashion was a really heavy intellectual art form, which is really important to me. That turned me toward fashion design.
Q. Looking at both weeks, did you think your elimination might have had more to do with week one than it had to do with this week's design?
A. Joshua: I feel like from the first challenge they kind of put a target on me. I knew going into the second challenge they were going to look for something to pound me for. The critique wasn't as harsh this week, but I think the first week definitely affected the way the judges viewed me.
Q. As these challenges progress, do you think the pressure is greater to be as creative and fashion-forward as possible or as to be as whacky as possible?
A. Joshua: To be honest I have not figured out the judges. It's really just based on their reactions. Something you seem season after season, everyone else might like your design but the judges might hate it. So you just have to pray they like it.
Q. The judges condemned you for using a normal fabric. But Olivier had the winning design and he used a dog bed. Isn't that kind of the same thing?
A. Joshua: A lot of people used standard fabric from the workroom and then just glued stuff all over it. I didn't use anything that didn't come from the store except for thread to sew it together. But I really, really liked Olivier's look and I was really happy for him.
Q. It seemed like there were fit issues both weeks with your model. Do you think that had a lot to do with how your designs turned out?
A. Joshua: On this last challenge, there wasn't a whole lot of fit problems. I know the judges mentioned it again, but it actually fit her quite well. I just think they wanted to bring it up again. The measurements were terribly off for the first challenge so that was problematic, but it was what it was and I did the best I could.
Project Runway airs every Thursday at 9/8c on Lifetime.
(Image courtesy of Lifetime)
Follow Lindsay on Twitter @LindsayStrouse