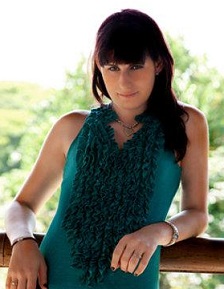 by Gina Scarpa
Last week, on The Challenge: Rivals, Sarah and Katelynn DQ'd in a rafting challenge and were automatically sent into the jungle. Up against Jonna and Jasmine, it seemed that they had it in the bag but lack of communication caused them to be eliminated. Today, we talked to Katelynn in an exclusive interview to get her thoughts and feelings about her experiences on The Challenge: Rivals.
Q. Gina, RealityWanted: What made you do your first challenge and what keeps bringing you back?
A. Katelynn: I don't know. I think it's a litlte bit of a mix between desire for adventure and sheer desperation. I love to travel.
Q. Gina, RealityWanted: I am a little surprised that you and Sarah ended up becoming rivals because I didn't see it that way during Real World: Brooklyn. Do you feel like the challenges changed your relationship with her?
A. Katelynn: I would think that if at all, I think it just made me more congniscent of the fact that there's different aspects to her personality. There's the Sarah that I know when the cameras aren't rolling and there's the other one around those influences, like Kenny and Paula.
Q. Gina, RealityWanted: Do you see a difference between the way some of them act on the challenges versus in your encounters with them off camera?
A. Katelynn: No, because some of them aren't that deep as individuals. I don't give them that much credit. I understand that when I'm there, I'm there for a reason and presumably, they are as well. I don't hold it against anyone. What happens on the show is show drama.
Q. Gina, RealityWanted: We don't see much of you talking to Brandon on these challenges. Have the two of you remained friends since Fresh Meat 2?
A. Katelynn: Yeah, I mean we're not super close but there's no animosity either.
Q. Gina, RealityWanted: The challenges that they make you guys do are so scary sometimes. What bothers you more, water or heights?
A. Katelynn: Honestly, the water thing more than heights. Heights I can deal with. You're harnessed in and you've got 600 pound wiring hanging you up. You don't even think about it. When you're 30 feet over water, it's like concerete when you hit it. Plus, I'm not a super strong swimmer.
Q. Gina, RealityWanted: During the rafting challenge, Sarah complained that you were a weak partner but then, when you got eliminated, she cried that you were the best partner. Were you confused by her actions and words towards you?
A. Katelynn: The thing about Sarah is if she can't manipulate her way out of something, she's going to look to blame someone else. I very much believe in taking responsibility for my actions, weaknesses, and strengths. I feel like she feels like she was being shafted. The fact that I wasn't Laurel was going to be held against me every time.
Q. Gina, RealityWanted: Some people had some harsh things to say about your performance on Rivals, particularly Tyler and Sarah. Does watching it back bother you?
A. Katelynn: Honestly, I don't even watch it. I don't watch the shows. I see no reason to relive that horror. I know what happened when I was there.
Q. Gina, RealityWanted: What are your thoughts on doing more challenges?
A. Katelynn: Um, yeah... I think it's time for me to grow up. My worst fear is becoming Paula. I don't wanna be 35, a waitress, and doing challenges as my only source of income. Unless we're going to Japan and we're going to be on the ground, then yeah. I think I would excel well in Duel format rather than teams. I always get shafted with teams. I hate being tethered to one other player.
Q. Gina, RealityWanted: You do come across as being perhaps more grounded or mature than some other people on the show. Do you feel out of place when there's madness in the house?
A. Katelynn: I feel kinda like the house mom. There are a great many times when I feel like I'm the referee or if I don't try to emulate their behavior, it's held against me. It's very unnerving. They're older than me or around my age group and they act like preteens.
Q. Gina, RealityWanted: What are the positives of having done The Real World and appearing on MTV?
A. Katelynn: Really, just the ability to spread a message of tolerance and acceptance. I do my college lectures and reach a broader, more diverse group of individuals. I'm really not in it for the 15 minutes or afterglow of fame. It's more about being able to help people. I'm not limited to a community or township. I now have a national stage. It's not about what's in it for me but what I can do for others.
Q. Gina, RealityWanted: What are you up to now?
A. Katelynn: Right now, my husband and I are trying to get our life together. I want to go back to school and get a law degree. I think civil rights and child law is where I should be.

The Challenge: Rivals airs Wednesdays at 10/9c on MTV.
(Image courtesy of MTV)

Follow Gina @ginascarpa and "Like" her on Facebook!