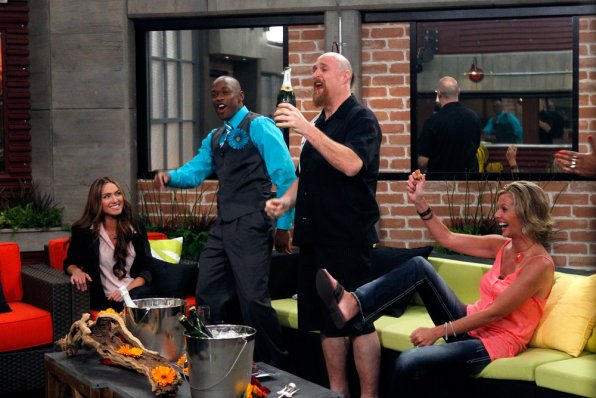 by David McAlpine

Last night marked the official start of the summer reality TV season. You all know what I'm talking about--you can have the sun, you can have cool drinks, but until I'm able to watch the every move of a dozen strangers 24 hours a day on the Internet, my summer is not complete.

But the premiere of Big Brother 13 gave me my viewing pleasure back. I'm more than impressed with the options we have so far this summer, but this is definitely the cherry on top.

And oh, what a cherry it was.

The episode started off with a quick recap of the eight houseguests who would be on the show:

Dominic, college student, San Mateo, CA: A momma's boy who still lives at home, but loves the ladies. He's a model on the side...and he's a virgin until marriage. Ouch.

Adam, music inventory manager, Hoboken, NJ: He's a biker-type who loves Beverly Hills, 90210. He'll break your throat, then go have a martini. Identity crisis!

Kalia, "writer," Los Angeles, CA: I use the term writer so loosely because, as a journalist, anyone who likens themselves to Carrie Bradshaw is, by default, not Carrie Bradshaw. She apparently writes about love and loves sex.

Lawon, legal file clerk, Inglewood, CA: This man is loud and his clothes are even louder. See: his pink shirt, his green jacket, the list goes on.

Keith, youth minister, Bolingbrook, IL: His favorite things: God and women (and they go together so well!)--and he can't wait for the women in the Big Brother house. He's got his Bible packed in his bag and he's ready to go!

Porsche, VIP cocktail waitress, Miami Beach, FL: Not only was she named after the car, but she works in a nightclub. Not trying to judge, but that says a lot about a person. Oh, and she admits she's had plastic surgery. Yep, that definitely says a lot about a person.

Cassi, model, Nashville, TN: She's a good old-fashioned Southern girl who likes boy things and just happens to be drop dead gorgeous enough to model. I want to not like her, but there's just too much niceness!

Shelly, outdoors industry executive, Baton Rouge, LA: Basically an older, non-model version of Cassie. But she owns an outdoors store, so she's a little more edgy.

Cut to everyone running into the house, figuring out their names, etc. At least this batch of houseguests are smart: 8 people, 10 beds, 12 place settings--there must be more houseguests. There must be more! No one was letting this go, except Julie Chen, who announced the first twist: everyone is going to be competing as pairs.

It's up to them, however, to pair up, so Keith jumps at the chance to take Porsche. She's hesitant, but accepts. Cassi and Shelly quietly pick each other, while Adam chooses Dominic (more like tells him in a booming voice) and Lawon and Keila are left with each other.

No time to complain for anyone, because twist two is just around the corner: three new pairs! First, it's Brendon and Rachel (laughing, fake boobs and all), then it's Jeff and Jordan, and finally Dick and Daniele (which Adam likens to seeing Tori Spelling--go figure).

The new cast headed out to the backyard for their first Head of Household competition, which involved holding onto a giant banana. Sexual? Yes, but also quite funny. They're doubled up on the bananas, so if the top one falls, the bottom one does, too and, to add insult to injury, they get sprayed with chocolate and whipped cream.

It eventually comes down to Dick, Daniele and Rachel. Even though she's outnumbered two to one, Rachel uses her bargaining prowess to get the duo to hand over the title in exchange for safety.

At least, until Julie reveals the third and final twist: of the pair that gets nominated, the half that stays post-eviction will automatically make the Top 10 (or get three weeks of immunity, whatever math-related way you want to put it). I'd still rather be safe than risk nomination, but I can see how that might change the game.

Big Brother airs Wednesdays at 10/9c and Thursdays and Sundays at 9/8c on CBS.

(Photo courtesy of CBS)

Reach David by email or follow him on Twitter (@DavidMcAlpine).