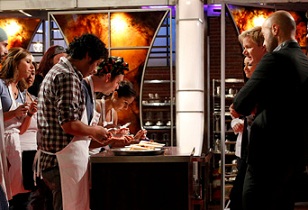 by Todd Betzold
Back to the team challenge on MasterChef, as the contestants head to Point Mugu and the Pacific Coast Highway.
For this challenge, the two teams will have 90 minutes to make a sausage and an amazing topping for 101 motorcyclists with the losing team facing a pressure test, where at least one person will be sent home.
Having had the two best dishes in the last elimination test, Tracy and Esther are team captains and get to choose their teams. Tracy chooses Alejandra, Christian, Jennifer, Erryn, Suzy and Giuseppe. Esther chooses Derrick, Adrien, Jennie, Ben, Christine and Max.
The two teams decide on their menus, with Tracy and the Blue Team making a quick decision to go with Spicy Italian Pork Sausage with Caramelized Onions, Peppers and Molasses. Esther and the Red Team struggle with their decision and finally decide on Beer Soaked Pork Sausage with Drunken Onion and Pepper Relish.
Both teams start out confident in their sausage, but then Tracy decides to cut out the peppers for the topping for the Blue Team, which Christian is against, but as team captain Tracy prevails.
We see a smooth-running Blue Team, but on the other side it is the complete opposite, as chaos ensues for the Red Team. They did not taste the sausage before they started casing it and when Chef Ramsay gets a taste of it, the Red Team makes an immediate change to the recipe.
Joe and Graham taste the Blue Team's topping and state it is too sweet, but I-can-never-be-wrong Suzy disagrees and goes against their critiquing of her topping.
More chaos from the Red Team, as their casing is screwing up. It is too tight and falling apart on the grill. In a late decision, they decide to go with sausage patties instead of the links.
The bikers arrive and the Blue Team starts serving, but with the late decision the Red Team is not ready to serve and has to stall the bikers. After finally serving some bikers, early votes start coming in and the Red Team jumps out to an early 19-9 lead (with the first team getting to 51 votes winning).
Many of the early voters state that the Blue Team's topping is too sweet, so they change it up and throw in some spicy banana peppers and red wine vinegar to get the spice and heat working together with the sweetness. This is the ticket, as the Blue Team starts pulling even and then goes way ahead. This is enough for the Blue Team as they take home the victory 51-41.
So, pressure test for the Red Team. Chef Ramsay asks Esther to choose the two weakest players and she goes with Christine and Max, since the casing was screwed up and that was their duty on the challenge. The remaining team members are told they are safe and this will only be a pressure test for two.
Esther is then informed she can choose to swap places with either Christine or Max, since she was team captain and they lost, or she can go upstairs with the other saved competitors knowing she did her all to win this challenge. Esther decides to go upstairs, so it is a test between Max and Christine.
This test is a test of steaks, which Christine is very confident on. She states she is from the South and she can cook a steak. They are given three steaks to cook in 30 minutes in three different ways: rare, medium and well done. The person with the most consistent temperatures will remain.
Max finishes up early, but Christine works right until the very end before plating her steaks. After the judges went through all three steaks for each competitor, it was a very close race. There was no clear winner, but after some discussion by the judges, Chef Ramsay said both did a phenomenal job and the margin was small, but the person leaving is Max. His cockiness had finally met its match, but a great job for an 18-year-old guy.
MasterChef airs Monday at 9/8c on Fox.
(Image courtesy of Fox)
Follow Todd @tbetzold