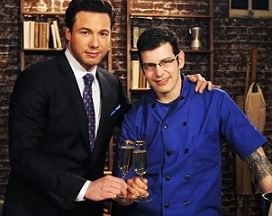 by Gina Scarpa
This week, on Rocco's Dinner Party, a high school culinary teacher defeated a private chef and a restaurant owner and left Rocco's loft $20,000 richer. Joel Gargano not only prepared great dishes but set up an atmosphere that blew away Rocco's dinner guests. Today, we spoke to him in an exclusive inteview to find out about his experiences on the show.
Q. Gina, RealityWanted: Did you pursue a career in cooking before becoming a teacher?
A. Joel: Yes, I did cooking professionally for about 9 years. I grew up in the industry. My parents own a bakery in Branford, CT. I grew up doing that and when I was 18, I decided to go to Johnson & Wales University.
Q. Gina, RealityWanted: What made you decide to try out for Rocco's Dinner Party?
A. Joel: Honestly, I would love to try out for Top Chef but it's nearly impossible to get on the show. You probably need an agent or something. I applied for Chopped but didn't get on. I got an email from a casting company and applied for Rocco's Dinner Party and went through the whole process.
Q. Gina, RealityWanted: Were you intimidated by King at all?
A. Joel: No, not really. In the beginning, I was like, "I didn't know what this guy is about." You don't know your competitors until you get there. They don't give you someone to Google before you go. I didn't even know what he was about until we got halfway through. I didn't really pay attention to him. I was just focused on what I do.
Q. Gina, RealityWanted: I was getting nervous for you, during the signature dish challenge, when Rocco started his feedback with, "Those who can't - teach." Were you freaking out a little?
A. Joel: Absolutely! When you hear something like that... you know, as a teacher, you're usually looked up to by students. When you hear someone try to degrade you, it's like a little jab to the gut. I ended up winning the round so I guess it's all good, I guess. It's television.
Q. Gina, RealityWanted: The idea of the chalkboard dinner conversation was a really smart one as well as your decision to go first. Do you feel like these little things helped push you towards the win?
A. Joel: 100% that's what I think it was. King's food was really, really good. I love Asian food. My wife is Asian and I eat a lot of that stuff at home. I thought it was going to be close.
Q. Gina, RealityWanted: Which dish do you feel really put you ove the top?
A. Joel: I think the dessert did. That sealed the deal. I grew up in a bakery and I like making my desserts. I think my background really helped me with that. One of the chefs I worked for in Providence had me work the dessert station when I first started. I actually learned a lot about restaurant desserts as opposed to bakery stuff.
Q. Gina, RealityWanted: What are you going to do now?
A. Joel: I'm sort of fresh out of college, so to speak. I graduated three or four years ago. I have student loans to pay off and now, I'll be financially freed up. I want to open up my own place. Me and my wife have been talking about this for years. I also have a blog, which is cookeatlive.net.
Rocco's Dinner Party airs Wednesdays at 10/9c on Bravo.
(Image courtesy of Bravo)

Follow Gina @ginascarpa