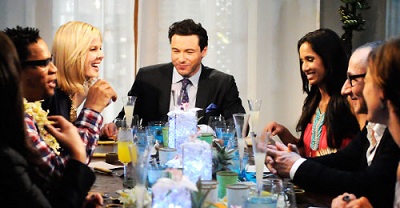 by Gina Scarpa
Last night on Rocco's Dinner Party, Rocco DiSpirito invited three chefs (Joel, Michelle, and King) to compete to cook for his guests. They come from all different experiences and cooking backgrounds. King owns two restaurants, Michelle is a private chef, and Joel is a high school teacher.
For their signature dishes, Joel makes a seared duck breast, Michelle goes with crawfish, and King prepares noodles and scallops... or, just noodles. He runs out of time and doesn't even get to put his scallops on the plate.
Rocco was not too thrilled with the shortcuts that Michelle took in order to create her dish as well as Joel's academic, technical approach to his dish. Despite not having scallops on his plate, King moves on to the next round for having strong flavors and showing love in his dish. Joel wins the signature dish challenge and is also given a shot at the $20,000 grand prize while Michelle is sent packing, for trying to fit a 4 hour dish into a 30 minute window.
Rocco's party the following evening will include a mystery guest but Joel and King are given clues to try to figure out who it could be. The guest loves living in Italy but is not Italian. The guest is also a star in the culinary world and loves clean flavors. I mean, it could be anyone...
Joel decides to cook first, which is a bold move. Most people decide to go second so that they leave the last impression but Joel has a smart strategy: his dinner guests will have fresh palettes when he serves them.
This week, Rocco's dinner guests are: Mary Alice Stephenson (style and beauty expert), Bebel Gilberto (Brazilian singer/songwriter), Gilles Mendel (fashion designer), Cindi Leive (editor-in-chief of Glamour magazine), and D.L. Hughley (comedian/actor). His mystery guest is non other than Top Chef's Padma Lakshmi.
When she arrives, Rocco throws Joel and King for a loop when he asks them to quickly put together an appetizer using Padma's spice blend that she brought with her. Joel chooses tuna and King goes with salmon. The guests all seem to be in agreement that the tuna was the better dish.
During dinner, Joel served homemade sausage, steamed mussels, and sourdough bread pudding, which all went over well. However, they also loved King's Bali inspired meal (somebody paid attention during Rocco's clues about the mystery guest). He served things like fried rice and spring rolls and incorporated curry into his dish.
King seemed to think that he had it in the bag but Rocco surprised him by declaring Joel the winner, awarding him $20,000!
Rocco's Dinner Party airs Wednesdays at 10/9c on Bravo.
(Image courtesy of Bravo)

Follow Gina @ginascarpa