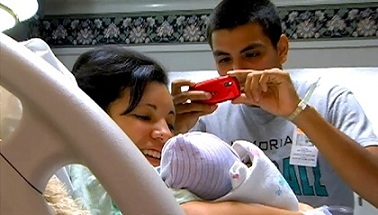 by Allie Giffes
On the season finale of 16 and Pregnant: Allie is a sixteen-year-old senior in high school who had to move with her father to Texas and unfortunately leave her mother behind in New Jersey. Her boyfriend, Joey, has been able to bring some happiness into her life. Though he's only a sophomore, he's about to be a father.
When Allie's dad found out she was pregnant, he told her that she couldn't live with him anymore and her only option was to move in with Joey and his parents. Considering they haven't been going out for very long, this makes her uncomfortable - especially because Joey's mother doesn't hide the fact that she's not crazy about her.
Joey's mom has struggled with drugs for a long time, so her actions are somewhat unpredictable. Allie worries that she won't be clean around the baby. Joey's grandmother is stable, however, and brings everyone together to discuss a plan for when the baby arrives. Allie finds some relief in the fact that her mom is going to come to Texas for the birth.

Joey's mom wants the house to herself for the weekend since she's been on edge, so they're staying with Joey's grandma. While they're waiting for her to get home, Joey's mother completely loses it over something stupid (Allie threw a banana to her from the kitchen and almost hit Joey in the head?) and she starts yelling and cursing up a storm. Joey tries to defend Allie by getting in between them, but his psycho mother claims that he "hit her." She tells them not to step foot back in her house, but at this point that's probably more of a blessing than a curse for Allie and Joey.
Though Allie kept strong while Joey's mother was tearing her apart, she breaks down to her mother on the phone. She reassures Allie that she's welcome to come home to New Jersey whenever she wants. Allie knows going back to NJ would be easier, but Joey is too young to move away from home. Luckily, Joey's grandmother offers to take them in until they can get on their feet.
Unfortunately all of Joey and Allie's things are at his mom's house... so they need to face her eventually. Again, she makes herself look like an idiot on national TV - even admitting that she's a "pill popper" like she's proud of it.
Joey's mom is going to go through a detox program so that she can be clean for the baby. They hope she'll live up to her word this time.
Unfortunately, Allie's mother is not living up to her word - she can't make it out for the delivey because of her job. Allie is really disappointed, but she understands and her mother promises that she'll be there for her as much as she can.
It's finally time! Allie's labor is going to be induced. She texts her mom the whole time that hse's in labor, and Joey and his family (including his mother) are all there by her side. When her contractions start to get unbearable, she gets en epidural. She's finally ready to push... and shortly after, baby Ayden is born.
The first few nights with the baby home are naturally sleepless. Allie feels like Joey isn't contributing as much help as he should be. It's a little bit late for him to figure out he's not ready to be a father, so hopefully he steps up his game.
Allie's mom visits her in Texas and it sounds like this is just what she needs. Her mom is obviously concerned about Joey. It seems like he's just too young to even know where to begin being a parent.
Since Allie has talked to Joey about stepping up his parenting skills, things have gotten worse. He says he's "miserable" with her and even started sleeping on the couch. Allie can't take it anymore, but when she tries to leave him he breaks down. It's too little too late, and it's not enough to convince Allie to stay.
Since she's almost done with high school, she's going to stay in Texas for a few more months until she can graduate. Her life is not anything she thought it would be, but I think that leaving Joey will be what ends up being best in the long run.
And that concludes another season of babies having babies.
16 and Pregnant airs Tuesdays at 10/9c on MTV.
(Image courtesy of MTV)
Follow Allie @agiffes