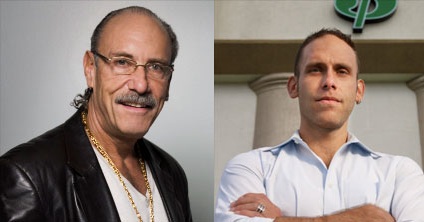 by Gina Scarpa
Next week, TruTV will premiere the fourth season of Hardcore Pawn, which promises to have more excitement than ever! The show follows the lives of the Gold family (Les, Seth, and Amy) at their business, American Jewelry and Loan. When season 3 ended, Seth and Amy had a falling out and Les attempts, in season 4, to get the family back on track. Today, we spoke to Les and Seth in an exclusive interview about the success of the show and how it has affected their family and their business.
Q. Gina, RealityWanted: I know the pawn industry has been part of your family for generations but what made you want to keep it going and bring your children into it as well?
A. Les: A real pawnbroker loves what he does. I made my first deal at 7 years old and I just found it fascinating to be in this industry. It's something that I love. I love coming to work every day. One of the greatest things that have happened to me is that my kids love doing it too. I couldn't be prouder of my kids.

Q. Gina, RealityWanted: Hardcore Pawn has aired for three seasons and is about to begin its fourth on TruTV. What have you learned from watching yourself on television?
A. Seth: Watching ourselves on tv on a weekly basis has been a good coach. It gets you to refine your skills and say, "I probably would've handled this situation differently." You do a lot of transactions and only three or four are broadcast a week. It gets you thinking about why you did what you did.

Q. Gina, RealityWanted: How has the show helped your business grow since it first premiered?
A. Les: It opened up the pawn industry to people that have never really seen how the pawn industry operates. They're mostly in urban environments and most suburbanites don't frequent them. People used to put their heads down because they were embarrassed to go into a pawn shop. We brought pawn shops to the nation. One of Seth's comments was, "It's now cool to go to the pawn shop." It's definitely cool!

Q. Gina, RealityWanted: What has the feedback been like from people - from fans and customers?
A. Seth: It's been positive, from pawn brokers to the everyday person. It's entertaining.
A. Les: I just came back from a jewelry show in Vegas and people were coming up to me, thanking them for teaching them business techniqued - whether it's buying or selling. That really surprised me.

Q. Gina, RealityWanted: You deal with some pretty interesting customers at times. How do you stay so calm when people get upset?
A. Les: Throughout the years of me being a pawnbroker, you have to have an understanding of your customer. If you allow emotion to take over, like Ashley has in the past, things can get out of hand. If you keep yourself calm, you can handle each and every situation. People act on emotion. People need money and when they need money, they'll say or do whatever they have to in order to get it.

Q. Gina, RealityWanted: Speaking of, season 4 will deal with the broken relationship between her and Seth. What has that been like, to have it play out on television?
A. Seth: It's tough to watch, to be honest. That's our family. When the show is over, we're still family. It's hard for things not to carry over.
A. Les: Looking at it from a father's perspective, realizing that my children are in this with me... and we have to deal with family because the store is only open from 9:30-6 6 days a week but we're family 24/7. That's what is most important. That's what I need to keep control of.
Q. Gina, RealityWanted: What else can fans expect from the show this season?
A. Les: Excitement! Whatever was, I think, is heightened for the next season. Whether it's negotiating, customers, family, I think the viewers are going to be very surprised how much more exciting it's going to get.

Q. Gina, RealityWanted: Do you feel that Hardcore Pawn has more seasons to come on TruTV and more stories to tell?
A. Les: There are 40,000 items in the warehouse. There are 40,000 stories. If we only tell 1,000 of those stories, there are still 39,000 more to tell.

Q. Gina, RealityWanted: Do you guys use Facebook or Twitter to communicate with your fans?
A. Les: I'll let my technologically advanced son handle that question!
A. Seth: Absolutely! We each have Facebook pages and we have a link to our website on there, americanjewelryonline.com. 


Hardcore Pawn premieres Tuesday, June 21st, on TruTV.
(Image courtesy of TruTV)


Follow Gina @ginascarpa