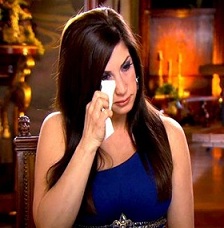 by Jessica Blackwell
This week, Kathy is still maintaining that she had the best intentions last week, when she confronted Teresa in a public place, instead of a private area. She realized that Caroline wasn't happy with her because of that, and felt the need to get validation from her. She went over to Carolyn's house to try and explain herself, but when Carolyn wasn't perceptive to her particular brand of bull****, she then scoffed and said "I'm a grown woman, I don't need to get any one's approval. I don't need to win over friendship". Umm so what what your point in going over there?
Kathy's husband surprised her with a brand new Benz with a red bow. She was very excited, calling herself "well taken care of".
Caroline seemed annoyed that Kathy tried to bring her into the situation. While she was talking about this, she said that her and Teresa are not "soul sisters" or "bosom buddies". I found that interesting, because there did seem to be a little bit of tension between them, especially when Caroline tried to her her advice on the situation with her brother. I'll definitely be keeping an eye on this.
Teresa didn't seem receptive to any one's advice regarding her brother, maintaining that she did nothing wrong, and that she is smart, and her brother and his wife are stupid. She also said that if there were more people in the world like her, the world would be a better place. Someone needs to make this woman self-reflect and ASAP.
Teresa has also begun her second cookbook, and attended a photo shoot for her food. I wonder if English is her first language because she embarrassed herself by saying "a million ingredientses" at the photo shoot. This is the self proclaimed "smart" woman speaking.
Melissa and Joe were having a little fight because Joe was angry that they hadn't had sex in 5 days. Barf. Joe claims that the Gorga men are very sexual and that Melissa will have to try and keep up.
Jacqueline went to visit a psychic advisor by the name of Tia. Tia advised her to help Teresa because there were things that were unsettled in her life. Jacqueline's parents came down to visit, and we got to see a glimpse of what her life was like prior to marrying her current husband. She seeks advice from her father about Ashley who doesn't seem to understand that she has to work hard for the things that she wants. He advised her to be more easy on Ashley because she comes home from a broken home. My advice would be tough cookies, life is hard, suck it up. But you know, apples and oranges.
The Manzo boys began moving out, and the whole family showed up to help them move. I wonder if that rumor about them getting their own reality show is true.
The show ended with Joey receiving Teresa's letter and reluctantly having Melissa read it to him. Joey claims that if Teresa changes back to who she used to be, he will welcome her with open arms.
Next week chronicles their Thanksgiving holiday. I'm anxious to see if Joe will give his sister a call...
The Real Housewives of New Jersey airs Mondays at 10/9c on Bravo.
(Image courtesy of Bravo)