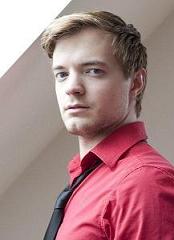 by Gina Scarpa
Last year, Adam Berry competed on Ghost Hunters Academy and won the opportunity to join TAPS and the cast of Ghost Hunters. He's been filming new episodes for season 7 and the show has just been renewed with SyFy for an eighth season. Tonight, a new episode airs and we spoke to Adam today in an exclusive interview about what the last year has been like as well as his experiences being a part of Ghost Hunters.
Q. Gina, RealityWanted: When did your interest in the paranormal begin and what brought you to try out for Ghost Hunters Academy?
A. Adam: As a child, I had things that happened in my home that I culdn't explain. I kind of blew it off to just strange occurrences and narrowed it down to a paranormal occureence. I went to Pennsylvania and experienced things at night and heard gunshots, battle cries, and all kinds of things. That pushed me to figure out what was going on. I didn't know you could investigate the paranormal until I saw ghost Hunters. I would go out with my friends and started a group. I saw an ad for GHA on SyFy and I was lucky to be one that was picked. It was the craziest experience. It was really tough. I learned the TAPS ghost hunting ways.
Q. Gina, RealityWanted: What has it been like to join the cast of Ghost Hunters and become "official"?
A. Adam: It's been graet. Honestly, I don't have to worrya bout people trying to steal my spot. I'm not competing. I'm investigating with a great group of people that know what they're diong. I spend more time with Amy and Steven than anyone. I learn a lot from them every day. Ghosts just kind of flock to Amy. I learn a lot. It's been great.
Q. Gina, RealityWanted: What is the shooting schedule like and how do you stay awake?
A. Adam: We shoot 10 months of the year. I'm lucky enough to live on the East Coast so I go home more frequently than Amy. The shooting schedule is really crazy. It's great, though! It's never boring, that's for sure. I sleep late. I try to sleep as late as possible but I usually can't. I'm up around noon or 1 and then we start our day. We go until 5 of 6 in the morning. There's some coffee. We eat lunch in the middle of the night. It's naturally exciting. Your adrenaline is pumping. Things are happening. You want to be there. It's a natural energy that helps us.
Q. Gina, RealityWanted: Especially since season 7 started airing, have you been getting recognized?
A. Adam: Yeah, a little bit... here and there. I'm definitely the newbie, that's for sure, but I don't mind that. I still have my privacy and I can still have a good time. I enjoy meeting fans of the show though. Season 8 just got picked up so people watch the show. We love to ghost hunt and if we weren't on the show, we'd still be doing that. I love to talk to people who watch the show. It's always good to hear someone's opinion, even if it's a negative one.
Q. Gina, RealityWanted: Do you talk to your fans on Twitter?
A. Adam: Oh yeah, absolutely! Especially during the episodes, Amy and I watch it just so that we can relive what's going on. We don't see the episodes before they air. When fans, people, my family, and friends tweet me during the show, i talk to them. I answered them
Q. Gina, RealityWanted: Was there anything that you've found while filming season 7 that scared you?
A. Adam: Never scared. I don't think we're ever scared. I think intense is a good word or maybea little on edge. Anytime there are crazy sounds.. that can really send you over the edge but nothing that would maek you run.
Q. Gina, RealityWanted: What are you up to now?
A. Adam: I'm doing a lot of residential cases. There's a lot to look forward to. Tonight's epsiode, we're using new equpment. We have a lot of great evidence that I think people are really going to like.

Check out a special episode of Ghost Hunters, tonight at 8/7c on SyFy.
(Image courtesy of SyFy)

Follow Gina @ginascarpa