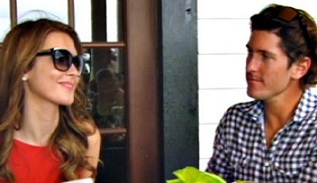 by Robin Hardwick
"Back in the Saddle"
Audrina heads down to Palm Beach Florida for the polo match. She takes her brother Marky and her stylist Joey. Doesn't she have any non-family, non-staff friends?
The gang meets the polo players, including Nick, who is also a model. Audrina claims that there is chemistry between them, all I see are two vacant people talking in each other's general direction. She gets on Nick's horse and he straddles her from behind to ride with her.
Oh no! The paparazzi happen to show up! And Audrina's needy boyfriend Corey has her on google alert, so he's sure to find out. They
go out with the polo players, and we see some more "flirting" between Audrina and Nick. Which consists of asking about number of siblings, breathing garlic on each other, and Audrina sharing that she is allergic to citrus.
Sure enough, Audrina has 86 missed calls from Corey. She calls him back on speaker phone and with Marky and Joey in the room, and Corey is enraged because Audrina did not call him last night to go over her day, which she apparently does every night. Audrina gets fed up and hangs up on him.
Joey claims that Corey is "literally a professional manipulator." Really? Literally? What do you major in for that profession? We are left with a cliffhanger. Will Audrina break up with Corey? (Probably.) Will Nick ever be mentioned again? (Probably not.)
Audrina airs Sundays at 9/8c on Vh1.
(Image courtesy of Vh1)