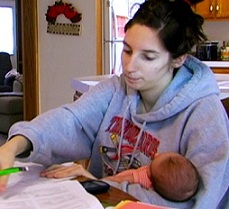 by Allie Giffes
On this episode of 16 and Pregnant: Kayla is a pregnant teen but struggling with an all-too-common eating disorder, Anorexia. Her boyfriend, Mike, lives an hour away, but she claims that they are "inseparable." Kayla and her mom used to be best friends, but now she spends all of her time at her new boyfriend's house.
Kayla's mom was also young when she gave birth to her daughter. Kayla feels like she takes off with her new boyfriend "at any chance that she gets," and she wonders if it's just because she's disappointed in her for being pregnant. Since Mike works part time, Kayla is by herself at home for most of the day.
Every woman knows that pregnancy comes with unwelcome weight gain... but for Kayla, who has been hospitalized for Anorexia in the past, it is especially hard for her to accept. Kayla clearly has urges to convert back to her old habits, but she is trying to remind herself that she also has to feed the baby growing inside of her.
At Kayla's ultrasound, she gets exciting news that she'll be having a baby boy. But despite the good news, there are bigger fish to fry. Kayla is starting to become overwhelmed by her situation, and she needs the advice of someone who knows what she's going through.
After a calm talk over dinner, Kayla's mom vows to try to be there for her more.
Kayla's baby is due in the middle of the school year, so she knows that in order to graduate she's going to need her mom and boyfriend's help.
Kayla goes to her seven-month check up by herself, which gives her the chance to ask her doctor about a better way to handle her weight gain. Her doctor tells her that she should expect to gain 25 lbs. total.
While Kayla's friends are over, she starts to feel extremely faint. Her friends practically try to stuff food down her throat, but Kayla insists on calling her doctor. He tells her they must take her into labor and delivery immediately. Her friends and boyfriend surround Kayla while she's in the hospital, and her mother arrives shortly after. The doctors tell Kayla she absolutely has to start eating correctly if she wants to continue having a healthy pregnancy.
To better cope with her inevitable weight gain, Kayla and her mom set up a meeting with a nutritionist. She tells them that she thinks eating together would distract Kayla from the guilt she feels when eating. Obviously, Kayla's mom has to be around the house for that to be possible.
Two weeks later, nothing has changed. Her mom is still at her boyfriend's a lot, but luckily Mike has been there to support her instead.
Mike has agreed to watch the baby once Kayla returns to school, but she knows that they're going to need help in the beginning. She hopes her mom will come through, for once.
A few nights later, Kayla wakes her mom up when she feels like her water has broken. She just tells her to "lay down and she'll feel better." The fact that her daughter is a month over due and having contractions isn't enough to convince her that it's time, so Kayla and Mike drive to the hospital together without telling her.
At the emergency room the doctors confirm that Kayla won't be returning home until her baby is delivered. Her doctors go ahead and decide to give Kayla the option of having a C-section. After 23 hours into her labor, Kayla decides to go ahead with the surgery, even though she doesn't want to.
A few days later, baby Preston is finally home. Kayla's mom had promised to take a week off of work to help the new parents with the baby, but she lets Kayla down once again and tells her she won't be taking the time off. Mike has been a huge help, but Kayla (who is once again, not eating enough) is struggling and isn't producing enough milk to feed the baby.
Things are starting to get overwhelming. Kayla wants her "old body" back, and the "easiest way" to get that right now is by skipping meals. Despite how much stress Kayla is already under, her crazy mother picks now of all times to ask if it would be possible for Mike to start paying rent. She tells Mike if wants to stay at their house, he needs to start paying $300 a month - but he's the only one who's been around to help Kayla with Preston. Without him there to watch the baby during the day, Kayla can kiss graduation goodbye.
Kayla has started to work full time in order to pay the rent, and now they only have $60 extra per month to spend on baby supplies. She hasn't had time to keep up on her homework and her teachers are concerned since she has fallen so far behind. Her school advisor gives Kayla a little hope - she tells her that she knows she can keep up with the rest of her class if she really works.

Kayla's mom is never at the house, and when she does come home - it's tense. She asks her if she wants to try dieting with her. I don't know if she thinks she's helping her daughter by doing that, but she is crazy... so who even knows at this point?
Though Kayla's mom has been asking them to pay rent, she is barely there and does not take care of the house. Kayla decides to confront her mom about the situation. She feels like there's no point in wasting money on rent when they could be putting that money towards the new baby. She seems indifferent and cold towards Kayla, and it's extremely sad. Kayla thought that someone who was also a teen mom would understand and be sympathetic of her situation, but unfortunately this isn't the case.
Though Kayla's life has fallen apart, she has no regrets when it comes to baby Preston.
16 and Pregnant airs Tuesdays at 10/9c on MTV.
(Image Courtesy of )
Follow Allie @agiffes