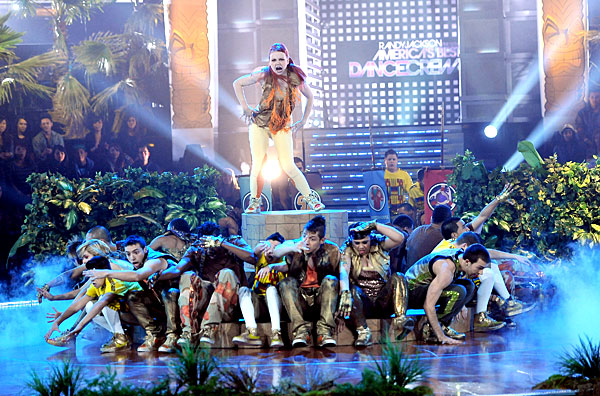 by Danae Young
This week on America's Best Dance Crew, it is Nicki Minaj week for the final four crews. 
The four remaining crews got together on stage for the opening jungle-themed group performance. I haven't seen that much decoration on the ABDC dance stage ever!
I aM mE was the first crew announced safe into next week. Their challenge was to recreate a childhood game in their performance to "Moment for Life" by Nicki Minaj. They went to a playground to bring out their inner child to prepare for the challenge. JC Chasez said they take on tasks in a very intelligent way and thought they handled the stunt perfectly. D-Trix didn't see one mistake. Lil Mama thought their timing was impeccable. 
The next crew announced safe was ICONic Boyz – my favorite! That left Street Kingdom and Phunk Phenomenon in the bottom two. 
ICONic Boyz became living dolls on stage while performing to "Check It Out" by Nicki Minaj. D-Trix liked that they used all of the elements he loves to create a performance. Lil Mama sees them expanding on the show and has noticed a huge change in the way they utilize the stage. JC Chasez said they are evolving stylistically. 
This is Street Kingdom's third time in the battle round of the bottom two, but before they had a chance to prove themselves once again, it was Phunk Phenomenon's turn to show they're worthy of staying in the competition. 
Phunk Phenomenon's challenge was the worst of them all. They had to incorporate belly dancing into their performance to "My Chick Bad" by Nicki Minaj. D-Trix thought they had so many amazing moments. However, he made an attempt at giving Bebo some belly dancing advice that was way too sexual for television. Whoa D-Trix! Lil Mama loved how they executed the challenge. JC Chasez said they definitely did a good job of incorporating Nicki Minaj into their routine, but he did mention the mistake Bebo made. 
Street Kingdom had to flex military drills like soldiers in their performance to "I Did It On Em" by Nicki Minaj. Lil Mama thought the performance started off slow but said it finished strong. JC Chasez and D-Trix agreed. D-Trix also noted how surprised he is at how much they have grown on the show. 
Unfortunately third time is not a charm for Street Kingdom and they were eliminated. 
Watch an all new episode of America's Best Dance Crew next Thursday at 10/9c on MTV.
(Image courtesy of MTV)
Follow Danae @danaeyoung