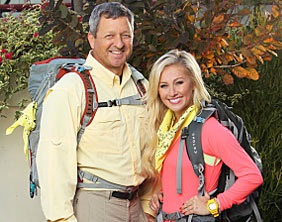 by Gina Scarpa
Remaining both calm and positive can take you a long way on The Amazing Race and nobody knows that better than father/daughter team Gary and Mallory Ervin. They became fan favorites last season and were eliminated in the eighth leg in Oman. They ran back to back races and the second time around, they crossed the finish line in third place. Today, we caught up with Gary and Mallory in an exclusive interview about their experiences on The Amazing Race.
Q. Gina, RealityWanted: How excited were the two of you when you found out you were going to run the race a second time?
A. Mallory: That was like one of my favorite parts of the whole race experience. I got the call and I ran downstairs and I said, "Dad! What is the best thing that could happen to us?" He said, "The Amazing Race is having an all-star season and they picked us!" We never expected it. We were thrilled!
Q. Gina, RealityWanted: Gary, you're in great shape! What kind of physical activity or training did you do before going on The Amazing Race?
A. Gary: I was a runner and a cyclist. I ride my bike to work every day, and it's a 25 mile round trip. I'm a wrestling coach. I train whether I'm on the race or not but for the race, I trained a little extra hard.
Q. Gina, RealityWanted: Mallory, you always have such a positive attitude. Do you feel that it helped your team do so well both times you ran the race?
A. Mallory: I think it certainly helped us. There are so many teams that bicker or give up or can't keep their heads up. My dad is such a good example. He's always been positive. My family is nice. It always pays off. It paid off on the race and I'm so thankful that we've been able to show that. I want to set an example.
Q. Gina, RealityWanted: You guys performed very well on the race but had two tough legs. What was the biggest issue for you in the 8th leg (India to Austria)?
A. Mallory: I think in the back of our minds, it was the leg that we got eliminated on last time. We were like, "Oh my gosh. This is the leg, this is the leg." We had a really bad leg but I tried thinking that it was going to be okay. I kept telling my dad that. He singlehandedly did that couch challenge.
Q. Gina, RealityWanted: You went into the final leg in first place. How much momentum and confidence were you feeling at that point?
A. Gary: We were so pumped up after winning the Rio leg. It fit us real well. Mallory got the samba on the first try. We were feeling good about our chances. Physically, we stacked up close to everyone else. We felt that we could win it!
Q. Gina, RealityWanted: Cab drivers can be the death of Amazing Race teams. Did you try to leave your cab in Florida and find another one?
A. Mallory: This goes to show that we're nice people. It cost us a million dollars in this situation. We walked out of the airport and got in a taxi. Some lady knocked on a window and said she was waiting for 30 minutes. We got out and got in the taxi with that cab driver that you saw us with.
Q. Gina, RealityWanted: Even though you didn't win, what did it mean to the two of you to be able to cross the finish line?
A. Gary: To race to the end and be able to take a chance on winning it and do every challenge and run to the finish... that's what we were in it for.
A. Mallory: It was the greatest thing in the world. We just wanted to make it to the final three and we did it!
Q. Gina, RealityWanted: What's next for the two of you?
A. Gary: I'm going back to Kentucky and hopefully, be on the side of the tv with the couch on it.
A. Mallory: I'm just the opposite! I started out in entertainment, singing. That's always what I wanted to do. I would love to do another show. I would like to try something different. We'll see. I'd love to do Dancing With The Stars!

Stay tuned to RealityWanted for more interviews with the final four teams from The Amazing Race: Unfinished Business!
(Image courtesy of CBS)

Follow Mallory @malloryervin and Gina @ginascarpa