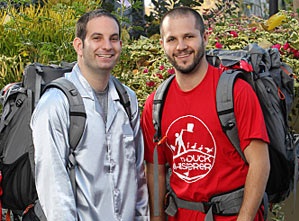 by Gina Scarpa
After Zev and Justin were eliminated in season 15 of The Amazing Race because of a lost passport, they (and fans) were hoping they'd get a second chance to prove just what strong competitors they are. They got their chance with this season's all-star edition and arrived first at the pit stops more times than any other team. They were eliminated on the season finale, finishing in fourth place, in Rio de Janeiro, Brazil. All week long, we're talking to the final four teams and today, we caught up with Zev and Justin to hear about their experiences running The Amazing Race for a second time.
Q. Gina, RealityWanted: After going out the way you did in season 15, how excited were you guys to come back and run The Amazing Race a second time?
A. Zev: We were super, super, super excited!
A. Justin: There was no way we could possibly be more excited than we were. It was all we wanted.
Q. Gina, RealityWanted: Besides the Globetrotters, who were you excited to see?
A. Zev: I was excited with the cowboys. Pretty much everybody else was season 14.
Q. Gina, RealityWanted: You worked with Flight Time and Big Easy a lot during the race. Do you feel like that alliance was mutual and that they helped you out just as much?
A. Justin: Definitely not! They didn't help us out as much but they did help us out at times. That's been a big topic of conversation with us and if they had won, we really would've gotten it. I don't regret helping them. It never hurt us. We were keeping a team alive that would've helped us over another team. When it comes to the race, you can't really do it all on your own.
Q. Gina, RealityWanted: You performed very well throughout the race but had trouble in Japan and China. What were your biggest issues there?
A. Justin: We both had problems in China. They were both difficult for different reasons. The dinosaur thing in general... I'm really bad at building things.
A. Zev: Japan was a needle in a haystack and I couldn't find the needle.
A. Justin: The bottom line is we got through it.
Q. Gina, RealityWanted: Which one of you got the tougher Road Blocks this season?
A. Zev: Justin did!
A. Justin: I would say I probably did the tougher ones. We both struggled at times, though. We chose well when it came to who did what.
Q. Gina, RealityWanted: Zev, how long did it take you to complete the samba challenge?
A. Zev: It took me about an hour.
Q. Gina, RealityWanted: I bet you never want to dance again after that.
A. Zev: I didn't wanna dance before that!
Q. Gina, RealityWanted: How tough was it for the two of you to be eliminated right before the final leg?
A. Zev: I think we dealt with it pretty good because we got to run the whole race except for the last leg. We left on a good note.
A. Justin: Ten ten teams were in the same spot we were in. Three teams cross the finish line and only one team gets to win.
Q. Gina, RealityWanted: How do you feel about Jen and Kisha's win?
A. Zev: We love it!
A. Justin: They're fantastic people and we're really thrilled. The final four are all fantastic people. They really are. There was a little karma in the second to last week when we beat Kent and Vysxin. We were really glad that we got to be there with Jen and Kisha in that final four, double episode.
Q. Gina, RealityWanted: Has being on The Amazing Race twice now made you want to do more television?
A. Justin: We're working on something with Autism Speaks. It's sort of like a webisode type idea. We're trying to do as much as we can to create awareness.
Q. Gina, RealityWanted: What do you want to say to your fans?
A. Zev: Thank you!
A. Justin: I think it's hard to express how everybody responded to us the way they did and responded to our friendship the way they did.

Stay tuned to RealityWanted for more interviews with the final four teams from The Amazing Race: Unfinished Business!
(Image courtesy of CBS)
Follow Zev @zevglassenberg,  Justin @justin_kanew, and Gina @ginascarpa