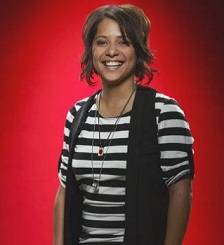 by Gina Scarpa
Last week on The Voice, Vicci Martinez took to the stage and rocked her rendition of Adele's "Rolling In The Deep". The Tacoma, Washington resident was so powerful in her performance that Cee-Lo and Christina Aguilera couldn't help but turn around. Vicci ended up choosing Cee-Lo as her coach and today, we spoke to her in an exclusive interview about her experiences on The Voice.
Q. Gina, RealityWanted: When did you first start singing - what's your earliest memory of that?
A. Vicci: I was forced by teacher to sing when I was in school. She knew my older sister could sing and I thought choir was dumb. I wanted to play sports. She forced me in front of the class to sing "Lean On Me". I told her that I didn't want to do it and she said that if I didn't, she'd fail me.
Q. Gina, RealityWanted: How did you hear about The Voice and what made you decide to audition?
A. Vicci: Somebody had given my manager a call. I had been offered to do American Idol and I said no to it. One of the guys that was part of casting was like, "This is a different show and Vicci is really unique. I think she'll like the concept." This felt right to me from the beginning.
Q. Gina, RealityWanted: What made you decide to go with Adele for your first song?
A. Vicci: I had a few songs that kind of sound like it. That style, that bluesy soulful style, was new. Adele's stuff is a little different. I heard it on the radio and I was like, "Dang! I hope they let me sing this!"
Q. Gina, RealityWanted: Does singing to the backs of chairs add an extra layer of pressure and stress while you're trying to perform?
A. Vicci: Totally! I grew a new patch of gray hair in that 30 seconds. On tv, they'll show them not picking you too. I know that's stupid and I should let go of the ego part of it. You want to get at least that far and have someone turn around for you. With record labels, you don't have Christina Aguilera saying, "Okay we'll sign you." You have a guy in a suit.
Q. Gina, RealityWanted: How tough was the decision to choose a coach?
A. Vicci: I didn't get too much time! I had to pick right then and there. I had an idea that if Cee-Lo turned around, he was my top choice. I like his vibe and energy. He's like a big Buddha. He has that energy! I felt really blessed to make the right choice and I went with my gut. He said that I sang from my heart and I was like, "Okay, duh! That's why I do it!"
Q. Gina, RealityWanted: What do you feel you need to do from here to make it far on The Voice?
A. Vicci: I think I need to stay myself. Even if that doesn't get me any further, I'll be like, "Well, I tried my best and I didn't have to mold myself into anything." And if that's what gets me further, that's great. As long as you're yourself, whatever you do in life, you'll be happy. I think shows like this... I hope they're an inspiration to people to live out their dreams and know that they can do anything that they want to do. I believe in manifesting your dreams. When you have good intentions, good things will happen.
The Voice airs tonight at 9/8c on NBC.
(Image courtesy of NBC)
Follow Vicci @viccimartinez and Gina @ginascarpa