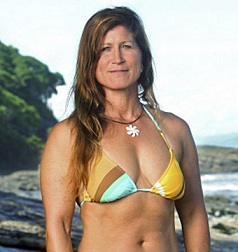 by Gina Scarpa
Julie didn't come on Survivor: Redemption Island to make friends or become famous. She came on for something much more than that - the chance at a million dollars, which would save her home from being foreclosed on. She made it to the merge and fought valiantly, but she was on the wrong side of the numbers. Her prank to hide Phillip's shorts following his outburst about race and rice was the last nail in the coffin and she was voted out of the game. Following her loss at Redemption Island on last night's episode, we caught up with her today to talk more about her Survivor experience.
Q. Gina, RealityWanted: You mentioned on last night's episode that you went on the show for financial reasons. Did you come into the game feeling a lot of pressure to win?
A. Julie: I did. I went for one reason. I didn't go there to make friends. I didn't go for the adventure. I went there for that money. There was a lot of pressure. I didn't want to let my girls down. There's so much stuff that needs to be taken care of here at the house. There was a lot of pressure! It was a big opportunity to change my life and make it easier. I wanted it bad.
Q. Gina, RealityWanted: It's been clear from the beginning that Rob ran the Ometepe tribe. Who would you say was in charge of your Zapatera alliance?
A. Julie: I wouldn't say anybody was in charge of my alliance. We all made decisions together. I mean, Mike is very good, strategically, and very smart. He would bring up an idea and we would all talk about it. We didn't have one leader. At one point, Dave thought he was the leader and were laughing about it.
Q. Gina, RealityWanted: Looking back on it now, do you wish you hadn't throw the challenge to get rid of Russell? It seems like that started the downhill slide for Zapatera.
A. Julie: Absolutely! There's no doubt about it in my mind that we should not have thrown that challenge. And the reward was such a great reward - to have a tarp and blankets! We were miserable. It didn't rain. It poured like I've never seen before. Every night we were drenched and every night we were freezing.
Q. Gina, RealityWanted: After you merged, was there any time that you felt hopeful you could crack the Ometepe alliance?
A. Julie: After we merged and they sent Matt back to Redemption Island, I knew as hard as we tried that we couldn't crack that alliance. It was gonna be a miracle to crack that alliance. We tried to form a female alliance. They were polite about it but they weren't going to break up that six. Rob had so much control. He has each one of them convinced he was taking them to the end.
Q. Gina, RealityWanted: Do you think it would have mattered whether or not you admitted to hiding Phillip's shorts at your last tribal council? You were voted out right after!
A. Julie: It's funny watching that. I was ridiculed by the guys at the fire station. We play tricks on each other and the number one rule is: don't ever admit it. But in reality, they were going to vote me out. It was a done deal. You don't have a chance to go, "Okay, let's change our votes. Julie hid his shorts!"
Q. Gina, RealityWanted: Were the shorts really that hard to find? I'm amazed Phillip dug them up.
A. Julie: I didn't hide them very far from where we were all living but I can't believe he found those shorts. He said he had a vision. Okay... whatever. I don't know how he found those shorts.
Q. Gina, RealityWanted: How did things at Redemption Island differ from life at camp in the game?
A. Julie: Oh my gosh. Redemption Island was pleasant. For one, it was beautiful but for two, I was there with Mike and Matt. The poison of all the racial tension at the old camp was gone. Phillip was poison. It was so refreshing. Being with Mike and Matt was great. I was not happy to be out of that portion of the game.
Q. Gina, RealityWanted: When we spoke to David, he said he didn't see Matt being as broken as it appears on the show. He seems to always be able to pull it together for challenges. What did you observe with him?
A. Julie: When I got to Redemption, Matt was a broken, broken, broken down young kid. He was bad off. We had talked and he was embarrassed by letting the old Ometepe tribe fool him again. He was saying he felt like an idiot and he was tired. He was fine with going home. He was saying, "If God wants me to continue, I will but I'm happy to go home." He wasn't going to throw a challenge. I talked to him and told him that this was a human being talking to another human being. I told him, "Your church, your family, your city are going to be proud of you because you live by your morals." By the time I got there, he was beat up.
Q. Gina, RealityWanted: Now that you're on the jury, what kind of player do you look for to win this game?
A. Julie: I definitely look down on people that float by. I respect people that played the game. Maybe they didn't always do well in challenge but they had a say in the game. They weren't just a coattail rider. I don't know who will be at the end but I won't vote for who my friend was. I'll vote for who played the game.
Q. Gina, RealityWanted: Even though you didn't win the million, do you hope some good comes out of your appearance on Survivor?
A. Julie: I'm not hoping! It already has! I went there for one reason to win that million and I left with a bigger prize. There's no price tag on it. I went home and found a great church. I have a renewed relationship with God. All that financial stress that was on me that has been litsed. That million dollars... what money? I got so much more out of the game. I'm very grateful.

Survivor: Redemption Island airs Wednesdays at 8/7c on CBS.
(Image courtesy of CBS)

Follow Gina @ginascarpa