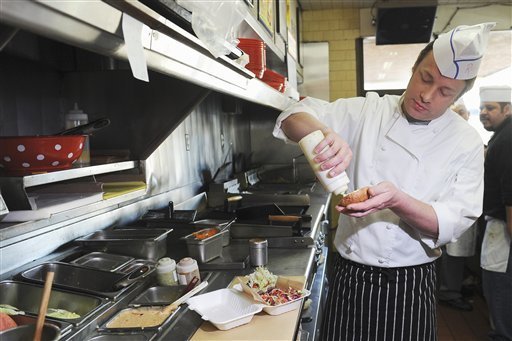 By Kristal Bailey
This week, Jamie Oliver continues his quest to get into the LAUSD lunch rooms and change the eating habits of LA's fast food loving populace.
He's trying the board again, this time hitting a smaller meeting in hopes of them being more receptive to his request. After appealing to them again, talking about the progress he's made with Jamie's Kitchen, some of them seemed to be smirking at his continued attempts. With such a dismal meeting appearance, there doesn't even seem to be a glimmer of hope of him getting into the lunch rooms.
In order to make some kind of difference, he's gathered a bunch of volunteers and they're going to pass out free, healthy lunches to the kids. In addition to changing at least one lunch, it's going to help promote his work in LA with free t-shirts and flyers with the board's contact information so parents can start an email campaign to voice their concerns over the school lunch program. His free lunches are budget friendly, consisting of white milk, a piece of fruit, and a salsa chicken wrap - something that could easily be made at home. As they pass out the lunches, you can see the parents and kids are eating donuts and other unhealthy foods for breakfast. A food revolution is definitely needed.
Later that day back at Jamie's Kitchen, he's gotten nearly 800 emails that he was copied on that were sent to the board requesting, and some outright demanding, that he be let in. Who knows how many more were sent that he wasn't copied on! It definitely seems like his free lunch idea hit a cord with the local families.
As a result of the buzz from the free lunch event, West Adams Prep heard about his work and are going to allow him to come in. They're a charter school, so while they are technically a part of LAUSD, they are run MLA, so they have a bit more freedom than other LAUSD schools.
As soon as he stepped in, he could tell that the staff was glad to have him there but they were nervous of how LAUSD will react since their jobs could be on the line. This school sits in a community where of the students that make it through to senior year, only 1% of them are prepared for college. Over 50% are overweight or obese. They knew that Jamie's work would be needed here. They're hoping that the district will see that his work will be beneficial. The MLA team had hoped that he could start in the cafeteria/kitchen doing interviews with the staff, but LAUSD is blocking that. MLA has had to be creative in how to allow him on campus; he's now a culinary arts teacher where he can teach healthy cooking and talk about eating habits. MLA and Jamie Oliver will have to be very careful because he could cost them their jobs and put all the great work they've done for this community at risk.
Back at the Oliver household, it's a little tense because of his lack of forward progression. There's a very interesting moment where he mentioned that his wife ate poorly before they were together, but her defense was that it was all she could afford at the time. Couldn't the same be said for many of the cases in LA? With Petra's Burgers and their cheap meat?
Back at Petras, Jamie feels he's not going to make any progress with Deno because he's very stuck on making the food his way at his price because this restaurant has been his family's business since his father started it. If Jamie messes with it and it flops, that's his family's well-being on the line. So Jamie decides he's going to try to take it over and prove that he can make double the amount of money in two weeks with his new menu. Deno is not responsive to that idea at all. So they agree on a compromise, their menus will stand side by side and see if Jamie's menu sells. Deno just believes that because Jamie wasn't raised here in the states, he doesn't understand how fast food works and that's just what the customer wants.
Back at West Adams Prep, his first class only has 10 people. One of them brought in McDonald's from lunch, which just shows how bad it is. He had some of the students share their personal experiences with health problems, and a few of them have family with Diabetes. The saddest story was one girl who's little sister was diagnosed at only 10 years old. She would inject her sister with insulin when she was too young to do it herself. This is a direct result of all the fast food and poor eating. Then it comes out that her parents both have it, her grandparents both died from it, and she's just resigned herself to the fact that she's going to get it next. The eating hasn't changed around the house, she's just so sure that she's going to get it that she's not fighting against it by trying to eat healthier. It breaks your heart. If they'll let him, Jamie's going to go to her house to talk to her family, to try to teach them how to eat better.
Since he can't get in to the kitchen, he's going to work with his students to show that anything's possible. They're going to work on creating an alternative healthy lunch and offer it to a group of the students at school. Working with these kids, it just shows that they haven't gotten in to Deno's mentality, where it's been like this forever so you can't change it. These kids are set to become food revolutionaries.
Over the weekend, he's working on his half of Petra's Burger's menu. He worked with a local butcher to figure out an affordable, healthy burger. After coming up with a few burger recipes, he took them to the street to see if the public liked them and how much they would pay for them. He had a continuous line the whole time he was out there, with people paying anywhere from $5 to $15! In order for Deno's profits to stay at his current level, his burgers will need to sell for at least $4.80. After this, I don't think he'll have a problem.
Jamie's burgers clock in at just 480 calories, while Deno's are 850 - 1500 calories. While they may be more expensive, at $4.85, that's still the same cost as Deno's most expensive burgers. After a few orders of Jamie's Revolution Burgers, it seems like this could be a hit. After teaching the other Petra's Burgers employees how to make his special burgers, he went through the drive thru a few times to test that they were making them correctly. And while the burgers turned out great, he saw Deno put in a squirt of that fake strawberry syrup on top of the natural ingredients "for a kick".
At the end of the day, Jamie thought his burgers were a huge success, but Deno saw it as unsustainable. He keeps saying that his clientele and Americans are stubborn, we know fast food and it's been the same for decades. But it seemed like the burgers were selling, maybe he's just the one being stubborn. His father said not to change the business, despite him dying of a diet related illness. Maybe Deno should re-evaluate his outlook on his restaurant?
Over the weekend, LAUSD cancelled his filming permits and threatened to have him forcably removed by police should he step foot on West Adams Prep campus. Luckily, that morning MLA and LAUSD worked it out to allow him on campus to use his culinary class to feed a small group of students a lunch alternative. He can't ask the students how they feel about the school lunches, otherwise he'll be kicked out. Jamie's angry that in this "land of the free", he's not even allowed to talk to kids about the lunch program.
Next week, LAUSD continues to fight him and his culinary arts program at West Adams Prep and Deno isn't too keen on his work at Petra's. Will he be able to make any progress with these kids?
(Image courtesy of ABC)
Jamie Oliver's Food Revolution airs on ABC Tuesdays at 8/7 c.
Follow Kristal on Twitter @kristal_bailey