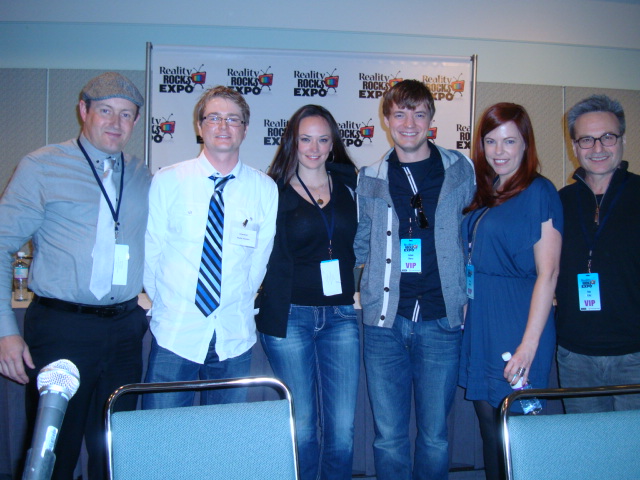 Barry FitzGerald, Chad Alan, Kris Williams, Adam Berry, Amy Bruni, Rob Katz
by Chad Alan
Barry FitzGerald, Kris Williams, Amy Bruni, and Adam Berry were all in attendance to share their ghost hunting history, as well as, give those at the Expo an inside look at what viewers don't always get to see during the show.  Ghost Hunters Producer Rob Katz also accompanied the team.  I was there for the initial panel discussion and then had a chance to talk one on one with the members of TAPS (The Atlantic Paranormal Society).
I was very impressed with the way that Barry, Kris, Amy, and Adam handled the panel discussion.  Although they've probably answered these same questions time and time again, the group seemed more than happy to go into the appropriate detail the outstretched ears of the audience was hoping for.   When we had a less structured conversation after the open public panel, they were just as good natured and detailed in their responses to my general interest questions.  I picked out some of the highlights of the two sessions below.
GHI (Ghost Hunters International) team lead, Barry FitzGerald, talked about how exorcisms are very real and common, especially outside the U.S., and seem to be a well kept secret.  He believes more than 400 exorcisms are done every year and knows of at least one instance where even the Pope could not cast out the demons in one poor soul.  Barry also mentioned that one of the scariest places he's investigated the Clark Air Force Base on Luzon Island in the Philippines.  He specifically mentioned the basement area stating "there is something really wrong going on down there."  The one place he would love to investigate, if funds allowed it, is the resting place of the Titanic.  
Amy Bruni, who recently did an interview with Reality Wanted, shared a very interesting story from her youth.  Amy grew up in family that was involved in paranormal research to begin with and she joked that her family feels as if she reached "doctor" status in the family.  When she was a child, her grand mother had passed away, and she found out about it when her grandmother paid her a spiritual visit in her upstairs bedroom to say goodbye.  Needless to say, she had a calling for this work at a young age.  Amy refrains from taunting the spiritual world too strongly after one event left her with a strange painful scare on her leg.  Either the ghost wasn't very friendly or that's the only way it was able to make contact.
Kris Williams joined GHI this past season after spending much of her time with the original Ghost Hunters show.  She is really enjoying traveling the world but mentioned it's a whole other scene with the GHI crew.  Kris recounted a recent situation in Argentina where they had to cut through a dense forest like area with large knives just to get to their investigation spot.  Large, poisonous, snakes were also part of the experience and are all too common to other areas where the GHI team has spent time investigating.  She's been a welcomed addition to GHI which recently saw veterans Robb Demarest and Brandy Green depart from the team.  Her father is a big fan of her current gig and wouldn't mind a call from TAPS co-founders, Jason Hawes and Grant Wilson, to join the team on an investigation.
The newest member of TAPS, Adam Berry, has a craving for seeking out the most haunted place he can find.  He's a big fan of trying to taunt the spirits into making contact with him, although his current investigative partner Amy Bruni tries to keep him from going to far while she's around.  Adam mentioned Gettysburg as being one of the top most haunted places he's been too and also said the battlefields are very haunted at night but there are restrictions on being on the fields at night so you have to be creative if you want to experience the paranormal activities yourself.
You're not supposed to take your work home with you, but ghosts don't seem to play by the rules.  Every team member mentioned having experienced paranormal activity back at their hotels after their investigations.  TV's and lights turning on by themselves have become expected occurrences. 
The team was able to take a recent break from the cold, blistery weather of Rhode Island and do some investing in Hawaii.  Timing though could have been better as they happened to be there during the recent Tsunami warnings caused by the 9.1 earthquake off the coast of Japan. 
The show has brought on many guests but a few of them really stuck out to the team.  Who would have thought Meatloaf would be such a natural Ghost Hunter?  Pro wrestler "The Miz" kept the team well entertained and the same can be said for Destination Truth's Josh Gates.  Eddie McClintock from Wharehouse 13 was another guest Ghost Hunter the team talked about really enjoying working with. 
Looking for a big named Haunted House?  TAPS recommends visiting the White House which is well known for paranormal activity.  Abraham Lincoln is one of the identified apparitions to be seen.
Thanks again to Barry, Amy, Kris, and Adam for their time and special thanks to NBCUniversal's Maureen Granados for setting up the exclusive interview!
Congratulations to Ghost Hunters for their award for "Best Supernatural/Science Show."
Can't get enough Ghost Hunters?  Be sure to check out our interview with Amy Bruni.
Ghost Hunters airs Wednesdays at 9/8c on Syfy.  Check your local listings.  
Contact Chad Alan at Chad@RealityWanted.com