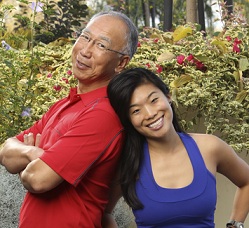 by Gina Scarpa
This week, on The Amazing Race, a Roadblock in India seriously slowed down Ron and Christina. He needed to find several sadhus, or holy men, and gather clues towards the meaning of life but found himself far away from where he needed to be. They ended up arriving at the pit stop last and were eliminated from the race. Today, we spoke to the father/daughter team in an exclusive interview about being all-stars, Ron's love of food, and Christina's marriage to a fellow racer.
Q. Gina, RealityWanted: What was your reaction when you found out that you had been chosen for Unfinished Business, as an all-star team?
A. Ron: I was just elated! I couldn't believe it! I had read before that they wouldn't do another so called all-star. When they called, I had to ask Christina if she got the same call and she confirmed. Without any hesitation, we were delighted.
Q. Gina, RealityWanted: Were there any teams that you were excited, or not so excited, to see this time around?
A. Ron: I was excited to see Mel and Mike. I always admired their racing abilities.
A. Christina: And I was excited to see Margie and Luke, the cowboys, and the Globetrotters. I found them to be our biggest competition but we loved watching them.
Q. Gina, RealityWanted: How do you feel the two of you handled the stress of the race this time around, in comparison to your first time running it?
A. Christina: I think we improved our game. My dad and I realized from the last time racing that we just never stopped racing. This time around, we took time to have a meal or tour a village or see things. We wanted to enjoy the experience together. We were calmer racers, I think.
Q. Gina, RealityWanted: Ron, a lot was made of your love for food this season. What was the best thing you ate on the race?
A. Ron: The best thing I ate was the dumplings in Lijiang when we got there in the early morning. We were famished and having such warm varieties of these dumplings... mushroom, meat... it was just wonderful. Piping hot! It's one of those safe street foods that you know you can eat.
Q. Gina, RealityWanted: Ron, what happened with the Roadblock this week? How did you end up separated from the others?
A. Ron: Yeah, that's a painful moment when I took the wrong street. I didn't see any sadhus on the street and then I went down to the river and I met one who gave me a clue. I figured that it reinforced my original thinking that they would be at the riverbanks at the holy river of the Ganges. That was my downfall. I should've gone back up to the starting point.
Q. Gina, RealityWanted: How close were you to catching Kent and Vyxsin at the end of this leg?
A. Christina: It's hard to say! Every second on the race feels like an hour. We're not sure. We were told later on that we weren't that far behind.
Q. Gina, RealityWanted: Christina, your dad mentioned having this time with you before you get married to fellow Amazing Race contestant Azaria Azene. Meeting him must have been a serious added bonus to being on the race.
A. Christina: Oh yeah! Absolutely. We didn't win season 12 but it sounds cheesy. I feel like I really did win. It was a fun, crazy way of how we met. Even though we didn't win season 12 or season 18, I think my dad I feel like we came out on top.
A. Ron: Amen to that! We're grateful to the race, where Christina met her soulmate in July of 2007.
Q. Gina, RealityWanted: Ron, what has this race been like a second time around for you?
A. Ron: I just found it to be a wealth of great memories and emotion. I watched last night and I was so grateful that we got to run this race before Christina got married. We savored every moment of it. This is a wonderful time. Even though we're disappointed that we were eliminated, we had a great time and we have great memories.
Q. Gina, RealityWanted: Who are you rooting for?
A. Ron: All of the teams are good racers! We bonded well with the Globetrotters. We shared a room with Kisha and Jen. The cowboys are great, simple, honest folks. Zev and Justin are very good racers. I think every one of them deserve to win.

The Amazing Race: Unfinished Business airs Sundays at 8/7c on CBS.
(Image courtesy of CBS)

Follow Gina @ginascarpa