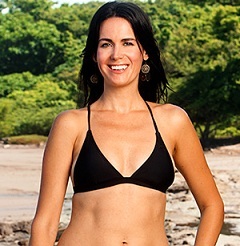 by Gina Scarpa
Some Survivor players value loyalty; others value strength. This season, Zapatera valued both and changed their minds about which reigned supreme from tribal council to tribal council. On last week's episode they sent Sarita, one of their most loyal, to Redemption Island, feeling she couldn't help them win challenges in order to keep their numbers. Last night, she lost to Matt in the duel and missed her opportunity to get back in the game.
Q. Gina, RealityWanted: Were you a fan of Survivor before you played the game? What made you want to do it.
A. Sarita: I was! I've long since been a fan of kind of anything that is the best at what they do. I feel like Survivor is really the truest benchmark for all reality shows. It's the real deal. I think they do an amazing job with it. They make it a real experience. From that comes an amazing cultural experiment. I wanted to see what I was made of. I wanted to see what would happen on out there
Q. Gina, RealityWanted: I read that Jeff Probst had high hopes for you early on in the game. What do you think happened to your strategy or game plan?
A. Sarita: Actually, I did play a really strong game until I was voted off. It's really how they're portraying it. I actually was playing fast and furious and making some bold moves. I assured that Russell get off immediately and then Krista and Stephanie. I had a solid strategy going forward. You're not seeing a lot of it on tv but I know it happened. I'm proud of myself.
Q. Gina, RealityWanted: Were you surprised that your tribe turned on you and voted you out?
A. Sarita: I really was. I was surprised, just because I figured... if they're so scared and David did so much politicking, which I did not... I believed in what we had going forward. I thought the merge was going forward. To go with someone who is proven to be untrustworthy and a loose cannon... I'm surprised they went with David.
Q. Gina, RealityWanted: Was the duel between you and Matt close?
A. Sarita: I really thought that I had it! I was like, "I totally got this." Another layer of your brain says, "Actually, your foot is splitting in two and you're done."
Q. Gina, RealityWanted: You've been to Redemption Island. Do you feel bad that Matt was immediately voted out and sent right back?
A. Sarita: As bad as I felt, I had given him all of the information. I told him, "Stick with Mike. Stick with Steve. Stick with these people." I outlined it for him and then he goes and gets all confused with his beliefs and his allegiance to the truth. This is game. You know what I mean? I tried to play noble the whole time. Playing noble just means not being super ruthless. It would've been so justified. An eye for an eye.
Q. Gina, RealityWanted: Are you rooting for members of your tribe to make it to the end?
A. Sarita: I am! I'm a faithful dog. I spent a lot of time with them. I know their histories and family life so I'm really, really rooting for them. Plus, Ometepe... I like them but it seems like a beauty show led by Boston Rob. I would love to see Zapatera do some business. Without David. I'd like to see him gone.
Q. Gina, RealityWanted: What's the biggest thing you're taking away from your Survivor experience?
A. Sarita: Several different things. One is a sense of letting go. I can be so hyperconscious about things and wonder what people will think about things. That was a big thing for me going in, being on a reality show. There's a part that you have to get past. You only live once. I trained for it, I was in the best shape of my life. Mentally, physically, I was at the strongest point in my life and I did my best. There's not one moment that I'm not proud of. It strengthened my resolve to say, "I'm really happy with myself." I'm happy with the decisions I make and who I am. I'm more comfortable in my own skin. I didn't even like playing high school sports an dnow I'm running around on tv like a cuckoo bird. I'm so glad I came out the other side! I'm happy. I'm grateful to Survivor for letting me play the game.

Survivor: Redemption Island airs Wednesdays at 8/7c on CBS.
(Image courtesy of CBS)

Follow Gina @ginascarpa