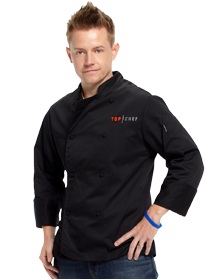 by Michael J. Lamp
Top Chef: All-Stars has come and gone. As many predicted, Richard Blais was the last chef standing after a tense finale. Richard caught up with RealityWanted and other reporters to chat about respect from fellow chefs, competition anxiety and finally taking home the coveted title.
Q. Michael, RealityWanted: High anxiety has become your calling card, it seems. As Padma prepared to announce the winner, did you finally feel like you had it in the bag or were you still nervous that it could go the other way?
A. Richard: I think I'm just constant analyzing what could of gone wrong, even if something was good in the end. I was prepared to shake Mike's hand and say congratulations if [he won.] As you've seen, I've come to expect the worst.
Q. Michael, RealityWanted: What did your wife say when you told her that you won? The shot of you on the phone cut away right before it sounded like she was going to respond.
A. Richard: She pretty much just said "OMG" and "Congratulations." [It was] some sort of combination of joy and surprise.
Q. Why did you ditch the Captain Crunch ice cream?
A. Richard: It's something I'm doing in my restaurants. We actually do Captain Crunch milkshake. I just thought the foie gras thematically fit the restaurant that I was building more than the Captain Crunch.
Q. What are you planning to do with the 200K?
A. Richard: The show is set up so that when you win this prize, you use it to better your career. I'm either going to invest it in the restaurants I'm doing or invest in a tongue & cheek in a major market.
Q. Did you ever feel like you were playing it safe in the final challenge? The judges seemed to think the beef dish lacked something extra.
A. Richard: I think, collectively, the menu was far from safe. Unfortunately, my own reputation gets in my way sometimes. I think people expect laser beams and liquid nitrogen on everything. One of my goals of the whole season was to prove that although I enjoy playing with modern techniques, if I have a sauté pan and a spoon, I can cook.
Q. Other chefs have talked about how supportive you are in the kitchen. Is it important to you to be seen as a good guy?
A. Richard: I don't intentionally try to be a good guy. I love what I do and sharing information. If I have a new toy to play with, I want to share it with my neighbor. A chef in the real world works with a big team. There's a lot of collaboration and sharing. That's how you make a great restaurant.
Q. Did the judges ever give an indication as to what put you over the top for the win? On TV, we heard two courses versus two courses.
A. Richard: Maybe thematically my food fit in a little more than Mike's did. The whole meal in its entirely might've been a little more cohesive. I'm paraphrasing what Tom said in his blog.
Q. What did you mean when you said that you 'willed' this win?
A. Richard: This is the first time I've really done that. I had to teach myself how to try and win. I know what the consequence of not winning felt like, and I certainly didn't want to feel that again.
Q. Have you been to any of the other cheftestants' restaurants? Any favorites?
A. Richard: I've been to Spike's burger place and thoroughly enjoyed it. In all honesty, I had one of the best meals of recent memory at Zaytinya when Mike was at the helm there.
Q. Can you talk about changes between Season 4 and All-Stars? How did your cooking change?
A. Richard: At some point, after losing the first time, a switch just went off. I became very tired of trying to keep up with doing food that was so progressive. I was starting to lose a track on what food is all about. I just want to make food that people want to eat every day. Delicious has to be the first thing. 
Top Chef: All-Stars airs Wednesdays at 10/9c on Bravo.
(Image courtesy of Bravo)
Follow Michael @mjlamp