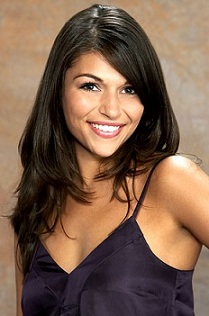 by Gina Scarpa
DeAnna Pappas didn't even want to try out for The Bachelor but four years later, she's glad she did. She made it to the finale with Brad Womack, the first time around, only to be sent home without a rose. She became The Bachelorette and chose Jesse Csincsak, only to have a very public breakup. Now the 29-year-old is happily engaged, auditioning and looking for her next big break, and will appear at next month's Reality Rocks convention, happening April 9-10 at the L.A. Convention Center.
Q. Gina, RealityWanted: What made you decide to try out for The Bachelor?
A. DeAnna: My story is actually totally different. I did not want to go on The Bachelor. I had never seen the show before. I had some friends who were huge fans. I had just recently been single, just about 3 months. My friend called me one day and said they were doing auditions in Atlanta. I was like, "No way, I'm not into reality shows." She thought I was perfect and offered me food afterwards so I was like, "Sure!" I never had any intentions of doing the show. I didn't think in a million years that they would pick me. I lived in small town and was just a normal girl who worked a normal job and lived in a normal house. I didn't think they'd ever choose me. When I went to the audition, I was just my normal, goofy self. My sister is really the one who pushed me to go.
Q. Gina, RealityWanted: Being on The Bachelor or The Bachelorette has its good points but there's a negative side to it too, with the tabloids. How did you handle both aspects?
A. DeAnna: For me, the show was taking a bit of a dive and then Brad did that finale where he didn't choose anyone. When I became the Bachelorette, my season rated high. Before that, the show started to take a dive. The tabloids didn't cover it as much. There was not that stuff going on in my life. I had no ex-boyfriends that were going to come out and say things about me. I feel bad for people like Jillian and Brad and Ali who have had to deal with things like this. I had a wonderful experience. I had this awful breakup with Jesse and I chose to keep my business out of the tabloids. I chose a different path that he did. I'm not gonna bash anyone publicly. It's nobody's business but mine and his. I feel bad for what everyone is going through, especially Brad. I know he adores Emily. It sucks.
Q. Gina, RealityWanted: Speaking of, I know that you watched this season. What was it like to watch Brad's second go around as The Bachelor?
A. DeAnna: It was tons of fun. I gave Brad a little shake of my finger a couple of times when he would say certain things. Brad's a great guy, though. It was a lot of fun watching. It was fun having some insight and seeing a difference in Brad. He opened himself up and really embraced love, especially with Emily. In my season, he wasn't like that. I think he genuinely cared for me but he didn't tell me that he loved me. I think he led me on a bit but I think he got caught up in the process of the show.
Q. Gina, RealityWanted: What are you up to these days?
A. DeAnna: I am just working and planning a wedding! I got engaged last May and we're getting married October 22nd. We're in full on wedding planning. I've been blogging with Weddzilla every week, telling them about my process. I think because of The Bachelor and The Bachelortte, people wanna see my fairy tale ending. I think people really wanna know. There are diehard supporters of the show and they wanna see happy endings. I also blog with Alfred Angelo, who is the designer of my wedding gown. I'm going on auditions. I also have an online show, Rose Recap, and we'll continue that every season. That is tons of fun.
Q. Gina, RealityWanted: So it's safe to say that we won't be seeing you on Bachelor Pad...
A. DeAnna: I definitely will not be on Bachelor Pad EVER! I sure will have tons of fun watching my friends and rooting them on.
Q. Gina, RealityWanted: What can fans expect with you at Reality Rocks next month?
A. DeAnna: What can't they expect? I hope they know they're meeting a normal person. I heard about Reality Rocks through the lady who is my hosting coach. She's the one who thought of me for it. I hope fans come and they're going to meet a totally normal person. I was normal before and I'm still totally normal. I'm looking forward to it!
Stay tuned for more interviews with stars appearing at Reality Rocks!
RealityWanted will have a booth at RealityRocks for both fans and members of the reality industry to check out our service! Mark Yawitz, co-found of RealityWanted, will be in attendance and also serves on the honorary advisory board for the convention.
(Image courtesy of ABC)
Follow DeAnna @deannapappas and Gina @ginascarpa