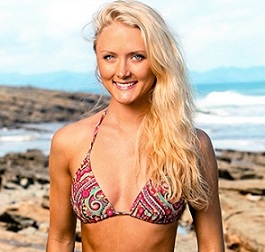 by Gina Scarpa
When Russell Hantz stepped foot on the beach for Survivor: Redemption Island, almost everyone on his tribe was unhappy to see him. That is, except Stephanie Valencia and Krista Klumpp, who teamed up with him but found themselves greatly outnumbered. The other tribe members took out Russell the first chance they had, after throwing a challenge, then voted Krista and Stephanie out next. At Redemption Island, Krista lost to Matt, who now awaits Stephanie as his next opponent. Today, we spoke to Krista in an exclusive interview about her experiences playing the game.
Q. Gina, RealityWanted: What made you decide to try out for Survivor?
A. Krista: I went to an open casting call out of the blue. My friend was doing an internship with a CBS affiliate in Florida. When she came home, she told me there was an open call that weekend at a really cool restaurant and she said, "Krista, you could so do that. You don't care about being dirty or harsh conditions." I said, "Print out an application and let's go." It happened like that.
Q. Gina, RealityWanted: Did you know who Russell was before you played the game? What made you decide to team up with him?
A. Krista: Yes. I knew all about Russell coming in. That's why when he got off the airplane, my whole thought process about how I was going to play the game went out the window. I felt like playing with Russell was my only option. I didn't like Russell and I didn't want to play with Russell in the beginning. He looked at me as being a lot like Natalie, as an asset. I think with that and getting to know me, he felt like we could really make it to the end. Russell and Stephanie were the first two to really come to me with a strong, strategic thought process in the game. When Russell comes with that, you gotta make a quick decision. In the beginning, everyone seemed okay with Russell being there so my quick decision was to go for it.
Q. Gina, RealityWanted: I'm sure I know your answer but was it smart for Zapatera to take Russell out so early?
A. Krista: Of course, I completely disagree. I think that was the first and worst move that they could have made. Russell was creating paranoia and they weren't able to relax and have their happy camping trip. That's part of it, though. He brought so much with his past two years in the game and knowing how to play and knowing how to work Rob... you have to get past your worries and discomfort with having him there and use him for his advantage over Rob. I think they made a huge mistake with that, especially throwing a challenge. They could've at least waited until we did lose. And then if you're going to throw it, do it before the merge! Getting him out was the worst move they could make. I hope they continue to lose. Doing that, they don't deserve to win. I don't think they're strong enough, mentally.
Q. Gina, RealityWanted: Andrea seemed jealous over your gesture, to give Matt your bible before you left. It didn't seem that there was any attraction or flirtation between you two, though. What did you think of her reaction?
A. Krista: I felt so bad, seeing Andrea seem like she was upset about that because I didn't want her to feel like she didn't have that connection with Matt. I believe that she very well could have. To see that she was upset about it, it made me feel bad about my gesture but that was not the intention. It was strictly to give Matt that comfort that I knew he was going to get from my luxury item. I hope that, if he does make it back into the game, that she can look past that and read into that as much as she did.
Q. Gina, RealityWanted: What happened with the duel? Did you rush through the table maze or just hit some bad luck when your ball fell?
A. Krista: The table was so big and heavy. It's an awkward grip on it. Most I've ever played with were small and can be controlled. I was getting close to the end and Matt was just zipping through it when he got to it. I don't know. I really thought that I had him. He just came out of nowhere.
Q. Gina, RealityWanted: What do you think about the Stephanie/Matt matchup that's coming next week?
A. Krista: He is gonna have his hands full with Stephanie out there. I have never met someone feisty and determined in a little body. She has some willpower and determination in her. I think that if it comes down to something physical, that she has a drive and determination. She'll give him a run for his money. It's going to be interesting to see. The other side for me is that Matt has been through so much living on that island by himself. I mean, he is by himself. Of course, you don't have the annoying personalities like I had on my tribe but you don't have anyone. You have to keep yourself entertained 24 hours a day and find a way to keep going and find that drive. I really don't believe that if anyone else without his strength or beliefs would've made it this far.

Survivor: Redemption Island airs Wednesdays at 8/7c on CBS.
(Image courtesy of CBS)

Follow Gina @ginascarpa