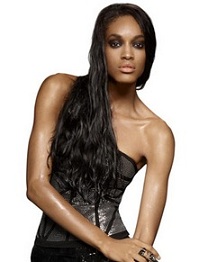 by Mike Bandy
Last night on Top Model, Dalya, the 21-year-old from Corona, CA with prior modeling experience, was sent home. Despite having walked in LA Fashion Week and modeling since the age of 16, she was unable to pull off a faux fur photo shoot or give a convincing commercial performance, and the judges decided she should not continue on in the competition. We spoke to Dalya about her time in the competition, what REALLY went on during DiaryGate '11, and what's coming up next for her.
Q. Mike, RealityWanted: On last night's episode, it was revealed that you've been modeling since you were 16, and have walked in LA Fashion Week. Having prior experience in the modeling world, do you think that ANTM prepares girls for what it's really like out there?
A. Dalya: Um, in a way yeah, they do. They prepare you for coming across with a fantastic personality, for dealing with photo shoots, and they do somewhat prepare you for it. I can say that some of the challenges - I've never done anything like walking on a runway of fire in the real modeling world, so that didn't really relate.

Q. Mike, RealityWanted: Since you were present for it, I'm going to ask - what was your opinion of DiaryGate '11? Did anything happen that the cameras didn't catch?
A. Dalya: [Laughs] DiaryGate?? Oh my gosh, that was so uncalled for! I did not agree with it at all, and I did not want any part of it at all; that was drama for yo' mama! It was ridiculous; I tried to stay out of it. The cameras pretty much captured everything, there wasn't much that they left out.

Q. Mike, RealityWanted: Which photo shoot or challenge was your favorite?
A. Dalya: My favorite challenge was the runway challenge with fire! But I didn't like the giant ball runway, and I could have done that without it so well! I wasn't scared of the fire, but it was really amazing! My favorite photo shoot was definitely the bee shoot, I think Mike Rosenthal was amazing.

Q. Mike, RealityWanted: If the winner of this competition were up to you, whom would you pick?
A. Dalya: If it was up to be, I'd pick miss Brittani! I love her, she's amazing, and I'd choose her.

Q. Mike, RealityWanted: Did you make any lasting friendships with any girls in the house?
A. Dalya: Yes I did, Nicole was a really good friend of mine, and we still talk. I love Jaclyn as well, but if I had to pick one girl I'm close to, definitely Nicole.

Q. Mike, RealityWanted: Looking back on your time in the competition, is there anything at all that you would have done differently?
A. Dalya: Um...personally no. I went into it just being myself the whole time, I kept my cool, I wasn't trying to be anything I wasn't. I don't think I would have changed any of my actions or how I carried myself.

Q. Mike, RealityWanted: What's coming up next for you?
A. Dalya: Definitely looking at some of the great agencies here in LA, and weighing my options., I want to sign with a great high fashion agency, because I know I can do it...I feel like I can definitely go out there and that ANTM opened a lot of doors for me. I definitely want to make it in New York as well, I feel like there's more opportunity there than here in LA. Definitely searching for agencies and seeing who'd like to take me on!

America's Next Top Model airs Wednesdays at 8/7c on the CW.
(Image courtesy of the CW)