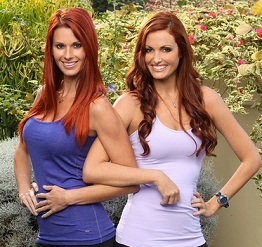 by Gina Scarpa
Perhaps Jaime and Cara said it best in their pre-season interview for The Amazing Race: Unfinished Business. Fans either loved the former NFL cheerleaders or hated them when they first raced in season 14. No matter what your feelings are on the pair, they always spoke their mind and you knew where you stood with them. They were eliminated last night, after being U-Turned and failing to complete a difficult Road Block, and we spoke to them today about their experiences on the race in an exclusive interview.
Q. Gina, RealityWanted: What was your reaction when you found out you were returning to The Amazing Race as all stars?
A. Jaime: We were super pumped! We dreamed of it, for sure. Even when we were flying on the final leg in Hawaii, we were already asking Bertram on the plane ride about an all star season. We heard they would never do it again. We definitely dreamed of it happening! When casting called, I was like, "Shut up, shut up, shut up!" I couldn't get a hold of Cara because she's in law school and I was like, "Check your phone!"
Q. Gina, RealityWanted: Who were you most excited to see return to the race?
A. Cara: I think it goes without saying that we were so pumped to see Margie and Luke there.
A. Jaime: I'd say Mel and Mike, too. Mel is a really great man.
A. Cara: I think we were actually pretty excited about seeing all the racers from our season. We were a little surprised that there were SO many racers from our season. It was nice to see them. I personally was excited about Zev and Justin. We were predicting who we thought would be involved and we were pretty dead on.
Q. Gina, RealityWanted: Did you feel that this race was more difficult that season 14?
A. Jaime: Yes! I feel like it's something that, in order to do it, they felt like they had to go above and beyond. Bertram [van Munster] succeeded in making it a very different race than anyone had ever run or seen before.
Q. Gina, RealityWanted: Sometimes, it seems that the thing that's more difficult than the tasks itself is actually getting to them! What was your worst driving experience, either when you were behind the wheel or in a cab?
A. Cara: I think that we would give it all to the taxi cab driver in Hawaii [in the season 14 finale]. You raised a good point, which is true. It's the travel that made Unfinished Business so treacherous. Jaime and I love watching our friends' and families' reactions to what we're doing. Some of the tasks were definitely challenging. We had some really, really difficult tasks our season. When we finished, Bertram said that was the most difficult season he had created up to that time. What made a world of difference this season was the travel and the superlegs. Just the idea that you've been running for three days and all you're thinking of is salvation and letting go of the race for just a minute and go to the bathroom or take a shower or eat... and to have those things eliminated time and time again and to realize that with each superleg, there was not an elimination was very frustrating.
Q. Gina, RealityWanted: Fans had a big reaction to Kent and Vyxsin U-Turning you right in front of your face last night. What was your reaction to it?
A. Jaime: Cara and I have always said... we're brutally honest... we have never been secretive about how we would run a race and we've always said that the race is designed to be given certain tools to force you to advance yourself. We would never hold it against anyone to use it. We always said we would use the U-Turn. The only thing that was frustrating was how long it took for him to decide to U-Turn us. That was what we got upset about. To actually use it... we never hold that against anyone.
A. Cara: We felt they shouldn't have even been there and we all felt that way. All the teams were united in Lijiang [China] in believing that it was unfair that they were still running this race. It was made very clear to be on a mandatory flight that was offered once a day every day. I felt, and I know Jaime and many others felt, that the only way they should be running this race is if they took the same flight 24 hours later.
A. Jaime: To be given only a 30 minute penalty was a slap in the face.
A. Cara: Above and beyond which they had 11 hours to make the mandatory flight. They had more time than Jaime and I had. What peeved me, seeing how everything unfolded, was they told all of the teams that they got in this car accident... I was confused and I was conflicted. I was thinking, "Maybe we shouldn't be so mean to them." Certainly, Jaime and I can understand that something external can come into your race and takes control of the race as I felt was the case. Come to find out that was a boldfaced lie to make us feel more compassionate.
Q. Gina, RealityWanted: Are you satisfied with your experience running the race for a second time?
A. Jaime: Cara and I would do it again! Even though by the time I got to the dinosaur task, I was the most miserable I felt in my life, I still wouldn't pass it up. We're competitive, we're aggressive, we don't like to pass up opportunities, and who knows? Maybe the third time's a charm!
A. Cara: Hopefully!

The Amazing Race airs Sundays at 8/7c on CBS.
(Image courtesy of CBS)

Follow Gina @ginascarpa