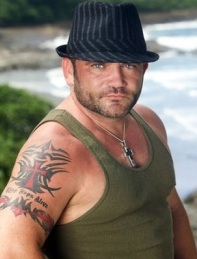 by Gina Scarpa
Perhaps no Survivor player, in the history of the show, has polarized viewers the way Russell Hantz has. Everyone has an opinion on the way this three time Survivor contestant has played the game. This season, on Survivor: Redemption Island, he entered the game with a target on his back that he couldn't shake. He was voted out of his tribe, where he lost to Matt in a duel to stay in the game. Before he left, he gave us one of the most memorable Survivor moments ever - breaking down and then spilling all of his tribe's secrets to the opposing team. Today, we spoke to Russell in an exclusive interview to get his take on his Survivor: Redemption Island experience.
Q. Gina, RealityWanted: I assume you expected there to be a huge target on your back this season.
A. Russell: Of course! I said my little speech and it was a little bit better than what they aired. You know, of course, you gotta stab people in the back in this game. They were so scared to death of me. They were shaking in their boots. I'm not going to wake up in the middle of the night and start stabbing you with a knife. I'm just one person. I just didn't understand it. It's easy to see that it didn't make sense. Put your man panties on and step up and control me instead of getting rid of me.
Q. Gina, RealityWanted: Did you try to form an alliance with any of the men on the Zapatera tribe?
A. Russell: Yeah! I tried to form one with Steve and Mike. I approached them first. I knew they were lying and they wanted me gone day one.
Q. Gina, RealityWanted: Do you think it's wise for people to target you or Boston Rob so early in the game, given your experience and expertise when it comes to Survivor?
A. Russell: He had it under control over there. He goes in as the hero and I go in as the villain. The forever villain. It kind of sucks for me. It's such a tough game. Everybody expects me to go all the way. Those girls were the best alliance I ever had - ever. The best players, the most trustworthy. Stephanie is a better player than Parvati.
Q. Gina, RealityWanted: That's a really big statement.
A. Russell: I played with Parvati. I played with Stephanie. She has the flirtiness to her. She can be cocky when she needs to be, like Sandra. She can be flirty, like Parvati. Sometimes, the best players don't even get to play, like Marisa [from Survivor: Samoa].
Q. Gina, RealityWanted: I have to tell you that I thought the lie that Zapatera told you, that Francesca had won instead of Matt, was stupid. Did that have any affect on you at all?
A. Russell: No! This is their strategic move? "We're gonna tell him that this person won instead of that person."
Q. Gina, RealityWanted: Ralph is talking a big game. What do you make of him?
A. Russell: The thing is that Ralph couldn't put it together in his head, what was really happening out there. He can't even spell my name right. I can't spell either but I can spell Mark... and John...
Q. Gina, RealityWanted: In Jeff Probst's blog on EW.com, he pointed out that you played the game three times in two years and perhaps the game had taken a toll on you emotionally. Did that have anything to do with your tears at Redemption Island, or was it about getting voted out so early?
A. Russell: No. See, everybody thinks, "Oh he's crying cause he's out of the game." That's not at all what it was. It was all about me feeling that I disappointed all my fans. When it all went down, I look at Jeff and he looks me in the eye and puts his head to the ground and says, "Give me a second." When he did that, I was like, "Man..." I let Jeff down, I let Mark Burnett down, I let the crew down, I let CBS down, I let my kids down. They thought I was Superman. They thought I could do anything. They had never seen me cry before.
Q. Gina, RealityWanted: What is your prediction now that you're gone? Is Zapatera in trouble?
A. Russell: I think that Stephanie and Krista are going to rattle some cages. Whether they stay in the game or get voted out, they're pissed. Stephanie being pissed is pretty intense. I think Zapatera is about to fall apart because they played the "Get Rid of Russell" game. They didn't play Survivor. We were winning challenges. If they didn't blow that challenge, we would've been three up. You know? At the merge, we'd go after Andrea and bring her in. I knew she wasn't with the clique.
Q. Gina, RealityWanted: Anything else you want to say about your experience playing this game for a third time now?
A. Russell: To tell you the truth, I think it's funny that it's called Redemption Island. I feel that I have been redeemed in my own way. I said a lot out there that they didn't show that I wish they had shown, about my kids. That's another reason I broke down out there. I was talking about my kids. My family was going to visit. I said that I wanted to apologize to her on national television when I swore on my family and then screwed up.
Survivor: Redemption Island airs Wednesdays at 8/7c on CBS.
(Image courtesy of CBS)

Follow Gina @ginascarpa