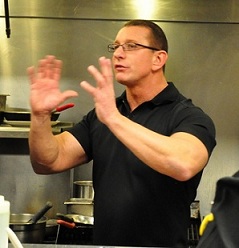 by Gina Scarpa
"Flood Tide"
For Robert Irvine's next Restaurant: Impossible mission, he heads to Mystic in my home state of Connecticut to tackle the Flood Tide restaurant. It's located in a major tourist spot but the owner, Jody Dyer, is concerned because business has tanked over the last few years. Upon first glance, the biggest issue is that this restaurant is super outdated... it looks like nothing has been touched since the 80s!
A group of hungry diners head into the Flood Tide to check out the food but they find it all "bland" - except for the lobster bisque, which is so salty that Robert compares it to the ocean. The next issue is that the servers aren't allowed to try the food so they cannot give any informed opinions to customers.
Robert's list to improve the restaurant is as follows: Update the décor, update the menu, get rid of tableside service, use assets such as a wood burning grill, let the servers taste the dishes, clean up the kitchen, and restore the reputation of the Flood Tide.
One of the biggest issues plaguing the restaurant is a disgustingly dirty kitchen. The grease, fat, dirt, and bacteria are enough to turn anyone's stomach.
After Robert heads around town to interview local people and get their (not so hot) opinions of the Flood Tide, he returns to the restaurant for a cooking lesson with the kitchen staff. He shows them dishes with duck, tuna, halibut, and chicken, giving them well rounded dishes to update their menu.
Robert meets with Jody to discuss the idea of changing the name of the Flood Tide completely, which is asking a lot of someone who has been in business for 40 years. She's going to need a little more time to think on that...
On the second day, Robert arrives to see that his designer, Michelle, and her team have seriously brightened up the main dining room with some fresh paint colors. Not giving up on the idea of changing the name, Robert comes up with "The Wood Grill at Flood Tide" and buys a cheap boat to make a new sign on. Let the work pile up on the design team!
The servers meet with Robert and then head to downtown Mystic to promote the grand re-opening to the locals. After that, it's back to the restaurant for some last minute preparations. When Jody arrives, it's tough to gauge her reaction. She admits that it will take her some time to get used to, but she finds it warm and inviting.
The re-opening goes off without a hitch!  Diners are loving the new, updated menu and look of the restaurant and Jody is absolutely beside herself.  It seems like The Wood Grill at Flood Tide is here to stay.

Restaurant: Impossible airs Wednesdays at 10/9c on Food Network.
(Image courtesy of NBC)

Follow Gina @ginascarpa