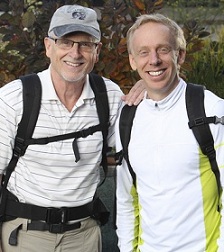 by Gina Scarpa
This week, on The Amazing Race, teams headed from Australia to Japan, where they participated in rituals in freezing cold temperatures. The weather and physical aspect of the race became too much for Mel and Mike, who had to bow out of their Detour. When they arrived at the pit stop, Phil informed them that they had been eliminated from the race. Today, we spoke to Mel in an exclusive interview about his experiences running the race for a second time with his son, Mike.
Q. Gina, RealityWanted: Any reservations about returning to the race for a second time?
A. Mel: It's funny. The body starts changing in ways that you're suddenly surprised by. I should've had more reservations than I did but I tried to act like a 40 year old. Right away, it was killing me to walk. I pushed the body. I should've gone to the old folks home and gone to sleep!
Q. Gina, RealityWanted: What teams were you most happy to see?
A. Mel: You'll probably think I'm playing the Pollyanna game. There were 5 teams from our season and the others were well known. We liked every one of them. It was like a family reunion.
Q. Gina, RealityWanted: The race immediately seemed to take a toll on you, Mel. What was the toughest part for you?
A. Mel: The first day, we ran between 4-5 miles after having flown 28 hours and turning back and going to Honolulu and back to Sydney and scuba diving and running down that huge long beach and finding out that it wasn't the end...
Q. Gina, RealityWanted: Speaking of, what was your reaction when you found out that the first leg was still going?
A. Mel: "You've gotta be kidding!" That was moderate for what some other people were saying. Even the young, strong ones were very exhausted. I don't know if you could tell but it was a sad surprise. I was upset.
Q. Gina, RealityWanted: It seems like, the more The Amazing Race goes on, the tougher the legs and challenges get. Did you notice a difference between your first season, 14, and Unfinished Business?
A. Mel: It was 100% different. On season 14, everything was calmer. You had a chance to see your partner doing things and relate to them emotionally. The Detours and Road Blocks were more leisurely and fun. This one, I think they knew we were all experienced so they put on the physical to challenge us.
Q. Gina, RealityWanted: It seemed brutally cold in Japan. How bad was it?
A. Mel: I never measured it because we were running so fast. It was so cold! The mud itself! I was probably just short of an hour in... it was cold, it was dark, it was raining - it was horrible. Mike had gotten out and was telling me to get out of there. Finally, someone came and told me to come out now. We both had hypothermia. Our body temperatures had lowered so much.
Q. Gina, RealityWanted: Did you arrive at the pit stop, knowing you were out of the race?
A. Mel: We were out of the race at the mud because Mike said that we weren't going on. He said, "I can't have my dad in there any longer." The medical people told us we couldn't go back and we knew we were out then. The interesting thing is that we arrived just before Jaime and Cara arrived. They had a really hard time finding the pit stop apparently. We knew we could've beaten them if we had found that frog.
Q. Gina, RealityWanted: Let's say you had found the frog. Would you have continued on in the face?
A. Mel: If we had gotten there in time, I would've mustered up enough strength to go on until we go to the end of it. Once I realized how bad my health was, and with the hypothermia, I was kind of relieved. I just didn't want to be seen as a quitter. That's the worst thing.
Q. Gina, RealityWanted: Was running the race for a second time a good experience?
A. Mel: The experience has become a happy memory. Even bad experiences that become happy memories are worth it. We were all together. I watched with my family last night and we were laughing and it was so much fun to relive it. While I was in it, though, I wouldn't have done it again.

The Amazing Race airs Sundays at 8/7c on CBS.
(Image courtesy of CBS)

Follow Gina @ginascarpa