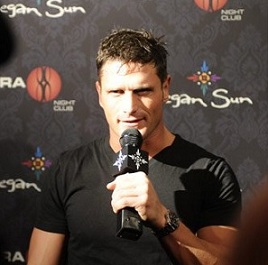 by Gina Scarpa
Not many people know how to take a stint on reality television and turn it into a long lasting career in the entertainment industry the way Reichen Lehmkuhl does. The season 4 winner of The Amazing Race has gone on to appear on other reality shows, as well as movies and talk shows. He has modeled, designed jewelry, written a book, spoken publicly around the country, and keeps on going! We spoke to Reichen this weekend at Mohegan Sun's SunDayz event to find out how The Amazing Race launched his career, which is still going strong eight years later.
Q. Gina, RealityWanted: How do you feel The Amazing Race played into the castings and jobs that you had following the show in 2003?
A. Reichen: The Amazing Race opened the door to almost every entertainment opportunity I've had since. The casting director of Frasier saw me because he is a huge fan of The Amazing Race, and called me in for an audition. After that, my opportunities snowballed to The Drew Carey Show, The Young and the Restless, Fear Factor, Dante's Cove, Days of Our Lives, my own, The Reichen Show, movies, and now more reality television, with The A-List: New York. It hasn't been easy. Extending my 15 minutes of fame into 8 years has taken some serious work in PR, appearances, and media exposure to make it happen.
Q. Gina, RealityWanted: What has been your favorite television job over the years?
A. Reichen: My favorite television job was The Reichen Show on the Q Television Network, now unfortunately bankrupt. It was my own talk show that I hosted, where I was able to be part of the production, editing, writing, and booking of guests. It was a dream job. It was also the highest paying job and contract I've ever had. I shot 127 hour-long episodes of this show.
Q. Gina, RealityWanted: Last year, you starred in My Big Gay Italian Wedding in New York. What was it like to do live theater?
A. Reichen: Live theater is AMAZING! I felt so lucky to be a part of that cast even for the brief period of my (2 month) contract. I would jump at the chance to take on a new role on stage, especially in New York where all the action is.
Q. Gina, RealityWanted: The A-List, on LOGO, received mixed reviews from critics and viewers. How did you feel about the reaction to the show?
A. Reichen: I had mixed emotions about the reaction to The A-List. At first, I was supportive of the show because I knew how hard we worked to make it, and I resented that the gay community was attacking it before they had even seen it. It brought out so much insecurity and vicious vitriol toward the cast, before they knew what the show even was. Then, as the show unfolded, I found it to be sort of "bitchier" than what I had imagined it to be. I thought more of the positive-influence scenes that we all shot would be make up a bigger part of the show, but they didn't end up on screen. Then, I stopped defending the show. Now I just take it for what it is... a fun, bitchy, guilty-pleasure show. I have, however, felt lucky to be a part of the production of The A-List. There are many people who would like to be in my position and have the exposure that this show can give a person who wants to promote so many positive aspects of their life.
Q. Gina, RealityWanted: Do you still travel and speak about the "Don't ask, don't tell" policy and your experiences in the military?
A. Reichen: Yes, I continue to spread my message today. Currently, even after President Obama signed "DADT" out of law, the law is still in effect. There is no timeline set to get rid of the law, which is a task placed upon our U.S. Armed Forces. Soldiers and Airman are still under law to be discharged for being gay. In other words, the President's signature didn't stop the abuse of DADT. We are watching those tasked with taking down this law... like HAWKS.
Q. Gina, RealityWanted: What is coming up next for you?
A. Reichen: I'm writing two books right now. One is called, "It'll Be Great Exposure", and the other is called "The Reichen Way". The first is a sequel to my autobiography, "Here's What We'll Say", about the rest of my life after graduating from The Air Force Academy. It will include my experiences on The Amazing Race, in Hollywood, and the creation of my little empire, The Reichen Group, under which all of my various projects and businesses fall. "The Reichen Way" will be a book about working out, eating right, and living around the right kinds of people. There is a movie about my first book being developed about living under the DADT policy at the U.S. Air Force Academy. And, of course, I'm looking forward to shooting season 2 of The A-List: New York.
Q. Gina, RealityWanted: Are you open to the idea of doing more reality television or do you want to focus on other things?
A. Reichen: Reality television keeps finding me, and I'm not complaining! It's been an amazing ride and an amazing key ingredient of business for me. I'm having fun and thriving in the industry - one that is the fastest growing in entertainment, so I feel like I'm in the right place.
Visit Reichen's website at thereichen.com.
(Image courtesy of Mohegan Sun)

Follow Reichen @ReichenLehmkuhl and Gina @ginascarpa
For more Amazing Race links, visit SirLinksALot.net