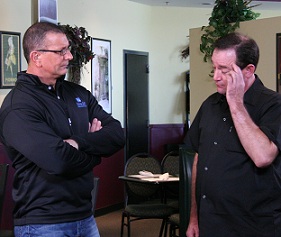 by Gina Scarpa
"Meglio's"
On Restaurant: Impossible, Robert Irvine's next mission is to save Meglio's, an Italian restaurant in Missouri that is failing financially. Prior to opening the restaurant, owner John Meglio was a salesman. He's taken a second mortgage out on his home to help keep the place going and he has no previous restaurant experience! Oh boy, he definitely needs Robert's help here!
Immediately, Robert is not happy with the décor and picks it apart, which John doesn't seem too happy about. After that, he brings in a full house of guests to sample the menu and provide some feedback. A stop in the kitchen reveals tons of frozen food and hardly any fresh ingredients. The staff says that that they could run the restaurant better than John could. Ouch.
The staff and John gather together with Robert to look at a list of things that need to change in order for Meglio's to get on the path to success. They are: improving management, cutting down the menu, identifying the restaurant, updating the décor, and marketing Meglio's.
The first task at hand is to throw out all of the frozen food in the freezer. Robert wants only fresh ingredients used. Next, a quick meeting with Taniya, the designer, reveals that his ideas for Meglio's are bigger than his budget. They're definitely going to have to get creative in order to remove the carpet, the unnecessary walls that break up the restaurant, and refinish the chairs and tables.
A cooking lesson with the staff results in them learning three new dishes all made from scratch. Clearly, the use of frozen ingredients has Robert pretty irritated. He keeps yelling at everyone, especially John, for the lack of quality in the food prior to his arrival.
Day 2 brings a serious issue - Taniya cannot find carpet tiles for the restaurant floor and the opening is later that night!
The staff is given a new menu to study while John and Robert head out to market the restaurant. When they return, Taniya has miraculously gotten her hands on some carpet but she only has an hour and a half to lay it down. Robert reviews the menu and service tips with the staff, makes one last look around the kitchen, and gets ready to reveal the new and improved Meglio's to John and his family.
When John steps inside, he can hardly believe his eyes. He was definitely raked over the coals for his lack of management experience and fresh ingredients but his thick skin and willingness to listen to Robert resulted in his restaurant looking better than he could ever imagine.
At the reopening, the customers were definitely loving the changes but there were a few complaints about cold food.  Robert immediately heads to the kitchen to make sure that the quality doesn't continue to drop.  They find their groove the food looks amazing.  Their pizza seems to die for!
And so Robert leaves Missouri with another success story under his belt! 

Restaurant: Impossible airs Wednesdays at 10/9c on Food Network.
(Image courtesy of Food Network)

Follow Gina @ginascarpa