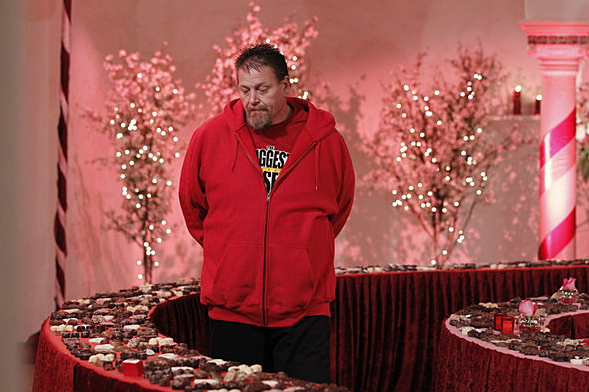 by David McAlpine

Last night on The Biggest Loser, it was the switch-up we've all been waiting for…well, kind of. Usually when they form two teams on the show (Blue and Black), there's some kind of switch up that's involved. This time, there wasn't. Instead, the Ranch teams became the Black Team, while the Unknown teams became the Red Team.

But, like I said, things on this show aren't always what they seem. In a Valentine's Day-themed temptation challenge, each contestant was put in a room filled with chocolate candies. Whoever ate the most pieces of candy would win the power to keep the teams or change them by switching two people from each team. Even better: everything is done in secret, so no one knows who ate what and, more importantly, no one knows who switched who, if it happens.

Now, I do have to give major props to the players who ate nothing, because I would not have been able to control myself like that. Chocolate is my jam, and I know some of you out there feel the same way, right? It seemed like it was about 50/50 on people who ate and people who didn't, but those who did went for it. Arthur ended up eating the most, with 35 chocolates.

When I saw Arthur won, I thought for sure he was going to keep the teams the same. After all, it seemed like everyone was eating to get the power to keep them the way they were. Well, that wasn't the case, as he switches Jennifer and Jay (the two arguably strongest players on Black) and Sarah and Denise (arguably the two weakest players on Red). His reasoning: the weaker his team, the more chances he has of staying around longer.

After that, I would have just kept my mouth shut. Arthur, however, was having a moment of conscience and he decides to tell everyone not only that he did it, but why he did it. He openly admits that he thought Jennifer and Jay didn't like him and his dad, while he thought Sarah and Deni were easy pickings when it came to the weight loss.

Bob and Jillian were pissed with Arthur, but there was not much they could do except train. After their first workout as teams, it was time for their challenge which was a relay race. Each person had to finish a task before handing off to the next person, and the first team that finished would win a surprise. Shockingly, the underdog black team won, giving them an extra morale boost with videos from home.

Back to the gym, where Jillian and Bob absolutely ripped Arthur apart. There was a lot at stake, especially for the two switched pairs of Jennifer/Jay and Sarah/Denise, since they're obviously at a numbers disadvantage when it comes to voting. The weigh-in results were as follows:

Red Team
Jennifer: -14 (-6.03%)
Ken: -14 (-4.36%)
Jay: -14 (-4.23%)
Justin: -10 (-3.42%)
Moses: -11 (-3.13%)
Austin: -10 (-3.06%)
Rulon: -12 (-3.04%)
Kaylee: -5 (-2.86%)
Q: -7 (-1.81%)
Total: -97 (-3.43%)

Black Team
Olivia: -16 (-7.14%)
Marci: -13 (-6.50%)
Irene: -12 (-5.55%)
Sarah: -10 (-4.50%)
Hannah: -9 (-4.28%)
Denise: -9 (-4.28%)
Jesse: -11 (-4.28%)
Courtney: -10 (-3.63%)
Arthur: -9 (-2.02%)
Total: -99 (-4.38%)

The result in the room was silence from the Red Team as, once again, this show proves how much the underdog can come back to bite the confident team in the butt. And Jennifer's hard work paid off, too, considering she had immunity for the week.

I'd like to think she wouldn't need it, but with Rulon placing so close to the bottom, you never really know what could have went down. However, it seemed like Q was getting on everyone's nerves, so it was a collective effort to boot him from the ranch. As a sidetone, Q voted for Jay, which makes me guess that the former Green Team is next if the Black Team ever has to eliminate someone else.

At home, Q has continued his weight loss journey in a much more effective way. He's lost 92 pounds since starting on the ranch and, for Valentine's Day, he took his wife on a lovely date…to the gym. Hey, it's at least the thought that counts, right?

The Biggest Loser airs Tuesdays at 8/7c on NBC.

(Photo courtesy of NBC)

Follow David on Twitter: @DavidMcAlpine

For more Biggest Loser links, visit SirLinksALot.net.