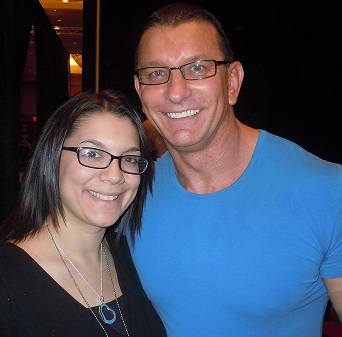 by Gina Scarpa
Robert Irvine is not only a terrific chef and successful restaurateur, he's also the star of not one, not two, but three popular Food Network shows - Worst Cooks In America, Dinner: Impossible, and his latest, Restaurant: Impossible. His newest creation focuses not only on fixing a restaurant on the verge of closing, but the lives of the people who run them.
He's also not your typical celebrity. At the Mohegan Sun Wine Fest this weekend in Connecticut, he was wildly unpredictable... in the best way possible! At the Grand Tasting, an event for foodies and fans alike, he ran a cooking demonstration, where he prepared a mouth watering sea bass. Throughout his presentation, he played around with the audience, washing the hands of one with a water bottle and bench pressing another. Afterwards, he did a book signing where he threw down a sign that stated, "No photos please", took pics anyway with fans, and opted not to sit at the autograph signing table the way his colleagues did.
We caught up with Robert today to try to get a sneak peek of what he'd be making for the Celebrity Chef Dine-Around event later this evening but the spontaneous chef had no secrets to share. "I have no clue! You should know that by now," he told RealityWanted. "That's the fun part of hanging out with me. I never know what I'm going to do. I just want to make sure that people have some fun. I'll probably do something from the book!" The book is his latest cookbook, Impossible To Easy, which was released last year.
Robert travels 330 days a year and rarely has time to meet with fans, let alone relax a little! In fact, he told RealityWanted that he only does three or four food events a year. He chooses the Sun Wine Fest because, "Mohegan Sun has some great chefs and I get a chance to see people that I don't normally get to see. It's a fun time and I get to meet lots of new people. It's really good to get back to people that you haven't seen for a while and have some fun."
Once the Sun Wine Fest comes to a close, it's back to business as usual for Robert. For now, he's enjoying the success of Restaurant: Impossible. When asked how this compares to Dinner: Impossible, he told RealityWanted, "It's funny! Restaurant: Impossible is a very different show to Dinner: Impossible. You figure out why they're behind the 8 ball when it comes to finances and the restaurant being outdated. When I shoot it, what you see is real. The show is very telling. It's a similar concept to Gordon Ramsay. It's similar but a completely different show. I pick on the food, interior, and staff to make them better, not to make television. I don't give a crap about that! I care about the people losing their houses and maxing out their credit cards. That's meaningful to me."

Restaurant: Impossible airs Wednesdays at 10/9c on Food Network.

Follow Robert Irvine @robertirvine1 and Gina Scarpa @ginascarpa
For more Food Network links, visit SirLinksALot.net