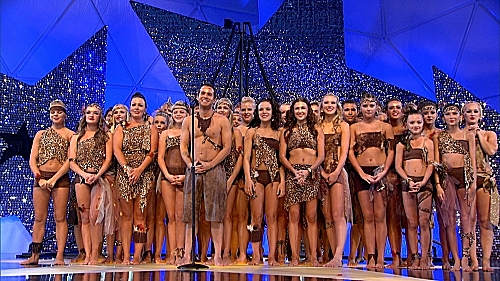 By Kristal Bailey
Tonight's Live to Dance picks between the remaining 3 acts for the final spot in the Top 18 for the semi finals. The experts put Kendall Glover through to the semifinals, now we find out who America voted through. Also, six of the semi-finalists will perform tonight to move to the next round. The judges will pick one of the six to move forward and America will vote for the other.
White Tree Fine Art has been voted through! I'm very pleasantly surprised to see them move forward, I did not think America would vote for a ballet group over the fun and lively hip hop groups Inside the Box and Theatrix.
Now starts the competition! Paula personally mentored each group to try to make them dance their absolute best.
The Vibe – This 38 member contemporary group had some challenges this week between popped sholders and emotions running high. The camera was a little less ADD this week, but with the group so big I don't feel like I saw everything that was happening. They danced to a classical number, but then it opened up to in instrumental version of Smooth Criminal by Michael Jackson. Paula Abdul loved it, even getting up to give them a standing ovation. Travis loved the intricacy, attention to detail, and the fast tempo. It was like watching a musical on that stage. Kimberly thought they were incredible as well and they open up the semifinals with 3 Gold Stars.
Jittin Genius – He describes Jittin as being a style of dance from the 1920s. I've never heard of this style before, so it's exciting to see what he can do. Travis didn't care for him during the first round of auditions, but this performance turned him around. He admired the originality and energy. Kimberly likes it, it's innovative and deserving of being recognized by America. Paula loved it as well, giving him 3 Gold Stars as well.
Chi-Town Finest Breaks – This group of siblings are adorable! They usually work with their dad on their routines, but this week Paula will be mentoring them. Dancing to the very appropriate Jackson 5 and Rapper's Delite, they were just delightful! Kimberly thought they were fun, but they didn't have enough energy and performance to reach the people in the back row, so they get the first red star. Paula thinks they were the most improved group and gives them a gold star. Travis thought the choreography wasn't enough, and despite being the cutest act, he gives them a red star. They won't be getting the judges vote, but maybe America will.
Austin Acevado – It's unbelievable that he's only been dancing for under 2 years! His leg extension and splits are incredible. Paula pointed out his superb technique, but wants him to just freely dance and have fun sometimes. There was a disconnect between him, the dance moves, and the performance, making the judges give him 3 Red Stars. His contemporary was fantastic, but he didn't loosen up and perform the hip hop as well.
Bev & Hap – They've been dancing together for over 20 years, truly exhibiting their desire to Live to Dance. Tap dancing to Boom Boom Pow by Black Eyed Peas and Low by Flo Rida, it was definitely fun to watch. Travis calls them an inspiration, but doesn't think they are the best dance. Paula calls them the best gift this show has given to her so far. They're more than just talented, they "wake up the spirit in every single one of us" and inspire us. They get 1 Gold Star from Paula and 2 Red Stars.
D'Angelo & Amanda – This show has the cute kid dancer demo on lock! Paula is nearly speechless after their routine; they were unbelievable. Travis calls them "old pros" and thought their routine was exquisite. Kimberly loved their technique and thinks they dance "like true professionals." They were fantastic, but I did notice a slip up at one point. On the whole, fantastic performance. They get 3 Gold Stars, to no one's surprise. 
The experts picked one out of the six groups, and while 3 acts got 3 gold stars, they went with The Vibe. America must vote between Jittin' Genius, Austin Avecado, Chi Town Finest Breakers, and D'Angelo & Amanda.
Tune in next week to see who America choose, and to watch the next 6 semifinalists perform.
Live to Dance airs on CBS Wednesdays at 8/7c.
(Image courtesy of CBS)
Follow Kristal @kristal_bailey
For more Live To Dance links, visit SirLinksALot.net