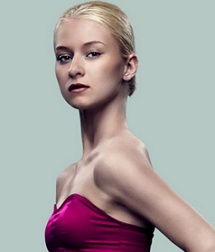 by Mike Bandy
This week on Top Model, Kayla, the 19-year-old out and proud lesbian from Rockford, Illinois, was eliminated from the competition. Kayla had some great photos and did very well in the motion editorial, but the judges felt that her performance was not strong enough to carry her into the final two. We caught up with Kayla to talk about her time in the Top Model house, what she's going to wear to the Grammys, and what's coming up next for her!
Q. Mike, RealityWanted: During the competition, you said that you wanted to be the first lesbian winner of Top Model, and expressed pride in your sexuality, which was very empowering to watch. What was it truly like being the only open lesbian in the competition? Do you feel that it helped or hindered you?
A. Kayla: I don't really think that it necessarily helped or hindered me, I was doing it because it's who I am. I feel like there needs to be more out and open gay role models because there really aren't any, especially for women. When I was on the show, I was worried that there would be a gay hater or really religious person, but everyone was really accepting and awesome; they treated me like anyone else. At the same time, they really don't understand; I've gotten hate mail saying that I talked too much about being gay. But straight people have privilieges [like marriage] and I don't. I should be able to express myself and be an advocate for the community until I get rights too, and I've always felt that way.
Q. Mike, RealityWanted: On this week's episode, you said that you felt you were growing stronger in the competition and that you were at the top of the pack. Were you surprised by being eliminated?
A. Kayla: I keep getting that a lot of people were surprised that I was eliminated, and that makes me feel like I'm not crazy, because I was too! I felt like I was consistently at the top of the pack, and I felt like I was showing what Top Model was about, which is growing. Ann broke a record for 5 first call outs, but she never got it again. I didn't understand that elimination. Also, I love Chelsey and I'm a big fan of her, but she never won best photo; the fact that she got chosen before me was a shock. But, you handle the cards you're dealt.
Q. Mike, RealityWanted: During the commercial challenge, you revealed your past with sexual assault, which was so brave of you to talk about. What has been the reaction from people in your life since that episode aired?
A. Kayla: You know what's funny, I've been asked that a couple of times, and I really didn't get anything [as far as support]. My family likes to sweep things under the rug, so nobody in my family said anything to me about it. There's no real answer to that question. They don't speak about it and act like it doesn't happen, just like they don't deal with my sexuality. But that's the family I have.
Q. Mike, RealityWanted: Give us some behind the scenes info: The recap show is coming up next week, with some never-before-seen moments from this cycle. What one thing do you hope will air?
A. Kayla: Um, I hope that it just shows who I really am! All my family and friends know that I lighten the mood; my natural personality is happy, bubbly and sorta ditzy (I'm sugarcoating the ditzy part). Chelsey would always have to check me and tell me to behave when we'd go places. I felt like I was a favorite of the producers too; I tried to give one of them a makeover to look like a drag queen! I hope my moments of making people laugh really show. They showed me as being a role model, which is great, and I've gotten thousands of emails thanking me for that, but I want people to see my funny side.
Q. Mike, RealityWanted: Other than yourself, who would have been your pick to be in the final two, and why?
A. Kayla: It would have been Chelsey, not because I love her, but I feel like she has a lot of experience. She's been doing this a long time, and she's the sweetest most sincere person ever. Every morning for breakfast, she'd make me eggs because she knew I didn't know how to cook! She knows how to talk to people, and she knows this business inside and out. Ann is great in photos, but I'm afraid that if she tried to do public speaking, she'd cocoon herself. And Jane, this is her first time trying modeling. She has the best look bone structure wise, but she needs about six more months of practice. I think it should have been me and Chelsey for those reasons.
Q. Mike, RealityWanted: You won the Grammy challenge, and will be a Grammy girl at the upcoming awards in February. Tell us: What are you going to wear?
A. Kayla: [Laughs] I'll be wearing Versace, no I'm just playing! They're providing my wardrobe and my hair and makeup, so it's out of my hands. If I end up on the worst dressed list, it has nothing to do with me!
Q. Mike, RealityWanted: What's coming up next for you?
A. Kayla: I keep knocking on doors. I know a lot of models from past seasons think people should come to them because they were on Top Model, but it doesn't work like that. As soon as my episode was over, I contacted agencies in Tokyo, and I'm gonna be flying out there to see them soon. A very well-known agency there contacted me on their own, and that felt really good! I'll be out there dec. 8th for about two weeks, and hopefully they'll sign me!

America's Next Top Model airs Wednesdays at 8/7c on the CW.

(Image courtesy of the CW)
For more Celebrity news check out TheCelebrityCafe.com