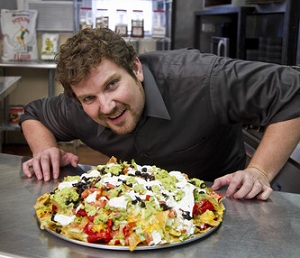 by Gina Scarpa
Tom Pizzica may not have won The Next Food Network Star but he didn't walk away emptyhanded. Next week, his very own Food Network Show, Outrageous Food, will premier. He'll travel the country looking for the most jaw-dropping dishes that you could ever imagine, from $175 burgers to corn on the cob flavored ice cream. Today, we sat down with Tom in an exclusive interview to find out what he learned from The Next Food Network Star and what we can expect on Outrageous Food!
Q. Gina, RealityWanted: What was your reaction when it was announced that Aarti had won The Next Food Network Star?
A. Tom: I was really happy that Aarti won. It was such an experience and a process. Finally, when a winner was announced, it was a big breath of release. We were all so close that we really were happy for each other. Aarti was talented the whole time. I don't know what I thought in that initial moment. It wasn't complete and utter disappointment because I felt like I had proven a lot on The Next Food Network Star. I really had that confidence. I was really, really happy for Aarti. Of course, I was sad that Herb didn't win but we were all really tight.
Q. Gina, RealityWanted: What was the biggest lesson you learned from being on The Next Food Network Star and getting feedback from Bobby Flay, Bob Tuschman, and Susie Fogelson?
A. Tom: I learned the most that you have to have confidence in yourself and you have to be there to learn. You have to be able to criticize yourself and learn and grow from it. You have to experience it to know what was going on. They could tell me that my food was bad and most of the time, I already knew that.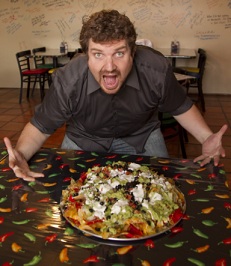 Q. Gina, RealityWanted: How did your point of view on The Next Food Network Star translate over into your own show, Outrageous Food?
A. Tom: It's actually a perfect match for me. I'm going around the country and we're doing some of the most outrageous stuff. It's some of the spiciest food, the biggest food, the priciest food! These people are really cooking the way that I cook. I go for it! I go and have fun with it and that's what this show is all about.
Q. Gina, RealityWanted: On Outrageous Food, you interact with people all over the country. Were you happy to get out and be with people instead of being on a set all day?
A. Tom: I love people! It really is a lot of fun. I love to learn what makes them tick. I want to know why they had this crazy idea. It's great to interact with them and learn from them. I've learned a ton just from being with these people and seeing what they do.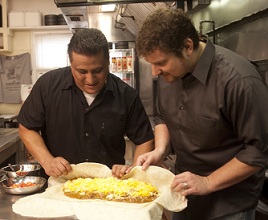 Q. Gina, RealityWanted: What makes Outrageous Food unique?
A. Tom: The content itself! Just some of the stuff that we're doing is absolutely outrageous. I'm with these people, hands on, making a 45 pound bun for a hamburger. You don't see some of that in these cooking shows.
Q. Gina, RealityWanted: Do you have any creative input with the show?
A. Tom: There's a collaboration between the production company, Food Network, and yes, my input does matter.
Q. Gina, RealityWanted: It's great that, even though you didn't win The Next Food Network Star, you still got your own show.
A. Tom: I kind of think, as we've been watching the show, we've learned that it really has become grounds for a lot of talent to come out of it. It's a really awesome hotbed for new talent. It's something that I went in knowing that I had to nail it, no matter when I was eliminated.
Q. Gina, RealityWanted: A year ago, could you have imagined that you'd be where you are right now?
A. Tom: Oh absolutely not! Of course not! I was just taking it one step at a time. I moved to California and my fiancé said I was going to the audition and I said, "Only if you come with me." I went to the audition, I got the callback, I got on the show, and then it took a crazy turn! When I was on the show, I worked really, really hard. It was something I knew I wanted to do.
Q. Gina, RealityWanted: What are you most excited about with the premiere of Outrageous Food next week?
A. Tom: For everybody to see some of the craziness that's out there! We traveled the country and from what I've seen, I'm just so excited to share it, even with just my family. People are going to be like, "Oh my gosh! Look at that!"

Outrageous Food premieres Friday, November 5, at 10/9c on Food Network. Catch a sneak peek on Sunday, October 31, at 10/9c!
(Images courtesy of Food Network)

Follow Gina at twitter.com/ginascarpa
For more Celebrity news check out TheCelebrityCafe.com