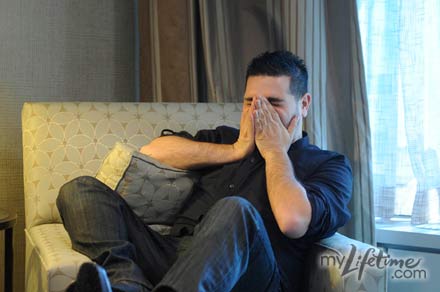 by Lindsay Strouse
After an intense six weeks of creating an entire collection, the designers came back to Project Runway to find out which three would make it through to the Mercedes Benz New York Fashion Week. A final twist was given when the designers were told they must create a new look in two days to present with two finished looks from their collection. Because of the "showgirl" style of his eveningwear and inability to show any variety in color palate, Michael C. was sent home. Today, he spoke with RealityWanted and reporters in a conference call about his time on the show and his emotional depart.
Q. Lindsay, RealityWanted: You had me choked up when you left the show last night talking about your family. Can you talk about what it was like coming home to them and what your relationship with your mom is like now?
A. Michael Costello: I have a good relationship with my mom. It came across like they don't give me a lot of support. They do give me support but it comes with restrictions. They want me to be a better person and they want me to be straight. There were times where they were sick of helping me out and asked me to give everything up, but they have always been there for me. I was sad that a few things came off weird on the show. I talked to my brother and sister last night and they were extremely upset about the comments that my partner made. My mom hasn't called me to talk about it yet.
Q. Lindsay, RealityWanted: Throughout the show, the judges generally loved your designs while you got a lot of backtalk from your fellow contestants. Why do you think there was such a difference in opinion?
A. Michael Costello: I don't know. I guess it's because they have their own techniques and processes. Andy told me a few weeks ago that he gets and understands me that I have my own process of doing things. The judges saw that I am good at my own craft and draping things. I think the others didn't like that they went to school for this and I was natural at it. I would still love to go to Fashion school, but you should just appreciate people for their own process of doing things. I love to learn new techniques and grow.
Q. Lindsay, RealityWanted: In what aspect of your life, either professionally or personally, do you think Project Runway has helped you grow the most?
A. Michael Costello: It definitely pushed me to push my limits and made me understand I am able to accomplish things better technically. Being on the show with the intense pressure, you have to try and push yourself to do the best you can.
Q. Could you walk us through your depart at the end of the competition?
A. Michael Costello: I didn't want to look at the judges because I really felt like they screwed up. I was so hurt and blown away because I put so much time and effort into that collection. As soon as I got off the airplane I bought a sewing machine and feathers and got right to work. The reason I was so disappointed was the day before all that happened, I was talking to my mom in case I made it to Fashion Week and she didn't want to go because my boyfriend was going to go. I was just dead inside because I knew she would never see the collection and I lost it.
Q. When you saw the other three collections, how confident were you?
A. Michael Costello: I thought my collection was pretty strong and the judges did say positive things about it and that the talent and craftsmanship was in there. They said my confidence level didn't come across too strong, but when you're up there...you're terrified. What they didn't show was that I had a panic attack right before they talked about my collection and the producers had to take my backstage to see if I was okay. I was just really stressed out. I was really blown away by Mondo and Andy's collection, but wasn't that impressed with Gretchen's collection. But at Fashion Week, they all did a great job.
Q. When we interviewed Ivy a few weeks ago, she said you two were friends now. Is that true?
A. Michael Costello: I have nothing but nice things to say about her. She and I ran into each other in New York, got coffee, started talking, and she was woman enough to apologize about everything. We fixed our relationship and after that we were talking about fashion and our collections and I like her a lot.
Q. I read you and April don't get along too well. Can you talk about that?
A. Michael Costello: I saw her at Fashion Week and I didn't know we weren't cool. I sent her a Facebook message about how shocked I was she was saying things about me. I really didn't know who was talking about me, but the thing is, I didn't know why she didn't like me so much when I would always pay her so many compliments. When she answered me, she said "you're cool in my book now, but then I didn't like you." Then she was talking about me later in an interview, and I just think she needs to let it go.
Q. It seems like you got singled out a lot of times about people believing you didn't deserve to be there. What was that like?
A. Michael Costello: I was singled out, but to tell you the truth, Gretchen was the most supportive person. When we were final four, she was very supportive and telling me to keep my head up. In the workroom, she would come up to me at lunch and tell me lots of positive things. Mondo was really there for me throughout the entire thing too. It got better when we got to the final four. Before that, no one was really supportive. There's nothing I can do about that, but they claim they like me now.
Don't miss the final episode of Project Runway, airing next Thursday at 9/8c on Lifetime.
(Image courtesy of Lifetime)
Follow Lindsay at twitter.com/LindsayStrouse