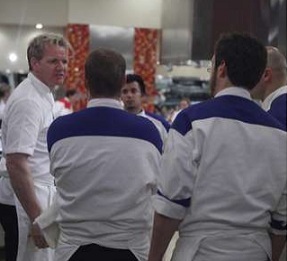 by Joshua Krol
The second hour of Hell's Kitchen begins with Chef Ramsay calling out the chefs who smoke and asking them to quit for 48 hours because of the impact smoking has on the palate. The chefs seemed up for the test as Gordy introduces the next challenge. The thing that sets great chefs apart from good ones is their ability to create something unique out of something simple like ravioli for example. The task for each chef is to show their creativity while creating a unique ravioli filling. The dishes must be completed in 30 minutes and then ranked from 1-6 in order of taste.
Sabrina starts out by simply annoying her teammates with her seemingly juvenile kitchen questions as Trev does everything he can do help his blue teammates. As time expires on the challenge the chefs lineup in front of Gordy in order of best to worst tasting raviolis. Gail shows her lack of confidence as she requests to be positioned from the middle of the lineup to the end. Seems strange for an experienced executive chef, don't you think? Melissa is up first and wows Chef Ramsay with her chicken and pancetta stuffed ravioli earning the red team's first point. Vinny is up first for the blue team and even though his bacon and mozzarella ravioli is good, it bursts which denies the blue team of a point.
Additionally Rob, Russell, and Boris earn points for the men as Emily and Melissa gain points resulting in a tie going in to the final two dishes. First, Gail presents her well-prepared ravioli dish followed by Trev. After a careful tasting of each, Ramsay claims Gail's is under seasoned and Trev is congratulated for his bold mixture (which wasn't even tasted by his teammates) earning the blue team a win.
Despite Trev receiving the winning point, Ramsay is impressed with Vinny's dish and decides to put it on the menu for Hell's Kitchen's Italian night. Just don't make it burst Vinny! The losers of the red team are forced to prep for both kitchens including making pasta and mozzarella from scratch. Meanwhile, the men will be enjoying a helicopter ride to a beach side resort.
As the blue team take in the coastline via helicopter, the red team back in Hell's Kitchen receive a dairy delivery. Ramsay had actual cows delivered to be milked for the mozzarella! This should be interesting. Most of the red team gets in touch with their inner farmer as they milk the cows by the bucketful. Anyone guess who didn't participate in the milking? That's right, Sabrina. This lack of participation only escalates tensions between Sabrina on the rest of her team. While the red team is getting fed up with Sabrina's attitude, Trev is not happy with his team's decision to not try his dish but eventually gets over it. Later that night, despite Gordy's request to stop smoking, Trev and Gail crack under the stress. Trev actually attempted to make out with Gail after their smoking session but don't worry Gail was having none of it.
The following night Chef Ramsay declares Italian Night. Hell's Kitchen will be serving three exquisite Italian dishes including Vinny's appetizing ravioli. The night starts out strong for the blue team as they push out appetizers quickly. This is rapidly halted by Louis's lack of salmon cooking technique. Does anyone know how to cook salmon correctly on this show? While the salmon is giving the blue team problems, the red team has trouble counting. Melissa can't seem to cook the right amount of ravioli's which forces the red team to fall further behind.
Sabrina is also struggling as she tries to make her pork chops. She actually had trouble counting the minutes, so don't feel bad Melissa. As the red team tries to pull things together the blue team begins to get burned (pizza that is). One of Rob's pizza's was burnt to a crisp and sent back from the dining room. Of course, this did not sit well with Chef Ramsay as he ordered Rob to go out to the bar and eat it. Not much of a punishment if you ask me.
With Boris falling back to do dishes in the middle of dinner service and Louis trying to serve raw chicken, Gordy has had enough and kicks both chefs out of Hell's Kitchen. Surprisingly, the red team finishes service first and is ordered to pick up the blue team's slack. Unable to piece together the blue team's mess y kitchen Ramsay is fed up and boots all of the chefs out.
Another disappointing dinner service forces Ramsay to ask each team to weed out the weak by putting two members up for elimination. Although Sabrina was voted up for elimination again, Ramsay decided on Louis.
To find out what happened in the first hour of Hell's Kitchen click here.
Hell's Kitchen airs Wednesdays at 8/7c on Fox.
(Image courtesy of Fox)
Follow Joshua at twitter.com/jkrol89
For more Hell's Kitchen links, visit SirLinksALot.net