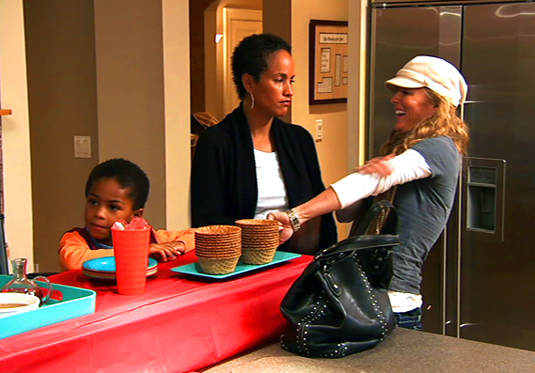 by Chandra Clewley
Tonight's episode of The Real Housewives of Washington DC begins with Cat working on her book cover with her husband Charles.  They begin to talk about what Charles's schedule looks like and the viewer can see that Cat is alone in DC by herself a lot. 
Michaele goes to a Washington Redskins cheer practice and says that she is a cheer alumnus. She seems to know all of the women that are there practicing, but there is a lot of contention with this and all the rest of the housewives say that she was never a cheerleader for the Redskins. 
Stacie has a party for her kids and invites Cat, Mary, Lynda and Erika. Once the kids are all settled the women go into a different room, but Erika has been after Cat all night long, calling her a mean girl and not letting it go. Finally, everything comes to a head and Erika really lets Cat have it. It seems to come out of nowhere and Cat is convinced that it has to do with the Tyra Banks comment. Lynda and Mary are upset by Erika's attack, and when Cat breaks into tears and leaves with her daughters, Erika kinda/sorta apologizes, but not really. Perhaps the underlying tension is that Erika feels a racist tension from Cat still.
Mary admits that Lolly has quit her second job of the show, as an executive assistant. The other housewives think that Mary is enabling her daughter, and Rich seems to think the same thing, but Lolly wants to stay at home a little longer. 
The group, through Paul Wharton, is invited to meet with Councilman David Catania about gay marriage. Lynda is for it. Erika is for it. Cat is for it. Mary doesn't seem to think it affects her. Jason and Stacie are against it, and want something more separate but equal which seems like a surprise for fans according to Twitter, who see the judgment of separate but equal as discrimination whether it is the color of your skin or your sexual preference. 
Michaele and Tareq go to meet with a friend that they want to ghostwrite a tell all book about their family called "Wine, War and Roses". The writer wants title credit too, but seems to think that there is a book there. 
Next week, we will see the culmination of the White House Crasher/State Dinner that we have been waiting for all season long.
The Real Housewives of Washington DC airs Thursday night 9/8 c on Bravo.
Follow Chandra at http://twitter.com/ChandraClewley
For more Real Housewives of DC visit Sirlinksalot.net