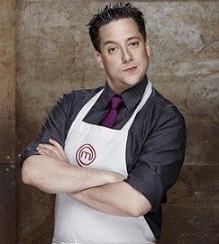 by Gina Scarpa
On the MasterChef season finale, it was a battle of the Millers: David vs. Whitney (no relation). Whitney proved herself time and time again, with consistent performances and delicious desserts. David broke away from the pack later in the competition, making a name for himself by taking big risks that paid off. In the end, David took second place to Whitney and today, we spoke to him in an exclusive interview about his experiences on MasterChef and his big plans for the future!
Q. Gina, RealityWanted: What made you decide to audition for MasterChef, as opposed to other cooking reality competitions?
A. David: MasterChef spoke directly to me, particularly because it's an amateur chef competition. I wouldn't have survived 15 minutes on a show like Hell's Kitchen. Plus, having that opportunity to have your food critiqued by the likes of Gordon Ramsay is nothing short of every home cook's dream come true.

Q. Gina, RealityWanted: The judges were not definitely on board with you in the very beginning. Did you feel pressure to win them over?
A. David: I felt pressure the entire time, from the beginning right up to the end. My focus was really just putting the best dish I could on the plate with the time and ingredients we were given. I think if there's anything the judges really questioned about me in the beginning was my personality and attitude; they were convinced I was either putting on an act or I wasn't taking the competition seriously. With that regard, I felt pressure to show them that's really who I am before they sent me packing.

Q. Gina, RealityWanted: You seemed to hit your stride after the halfway point in the competition and really started separating yourself from the pack. What changed?
A. David: If there was anything that really changed, it was my confidence level. "Hey, I'm still here, I must be doing something right," I thought to myself somewhere around the halfway point. Once I had confidence that I was being taken seriously, I became more comfortable putting plates up in front of the judges - and as a result, I wound up producing better dishes.

Q. Gina, RealityWanted: Who did you see as your biggest threat this season?
A. David: The word "threat" is a little heavy handed, don't you think? I didn't really feel threatened by any of the other contestants, but I was definitely intimidated by almost all of them for their own reasons. Both Sharone and Lee put up amazingly complex dishes with gorgeous presentations - Mike was a technical genius and everything he put up looked like it came out of a restaurant - Whitney has so much natural ability at her age and put some stunning and unbelievable plates together - Jake and Tony had the passion, drive, and experience to make us all look like idiots. I really could say something about everyone - the best part, though, was that we didn't look at it that way - we were all competing for ourselves and against the judges, not each other.
Q. Gina, RealityWanted: You seemed pretty confident in the cookoff against Sheetal until you both presented your main dishes. What went wrong for you?
A. David: I took a serious risk in breaking tradition with the Veal Milanese, especially in presenting a Northern Italian classic to Joe, having a Northern Italian background. I don't really think anything went wrong for me, but I was definitely called out for intentionally omitting the pounding of the veal. I think of Milanese as something you would make with shoulder chops or scallopine, not a 2 inch thick rib chop. Those chops were the most beautiful I had ever seen, and I couldn't bring myself to pound them to oblivion - so I made a bold move that could have cost me my ticket to the finals. In the end, I was rewarded for it.
Q. Gina, RealityWanted: Where does all the emotion and heart come from with your cooking?
A. David: I'll cook for anyone who comes into my home (or invites me to theirs). It's a very personal experience for me - not unlike reading poetry or performing music or painting. Seeing people's reactions to food is my selfish motivation for cooking - I really do love seeing someone close their eyes, and slow their chew when they bite into something I've created. Whether it's keeping people's memories alive through recipes passed down through your family, or creating a new favorite that your friends will drive half-way across the state to eat - there is something inherently human about cooking and sharing, and as a result I put my all into it.
Q. Gina, RealityWanted: When you stood next to Whitney, waiting to hear who had won MasterChef, what was going through your mind?
A. David: I really wish it were something more profound than, "I can't believe it's over!" I was running through every competition in my head, thinking about what I was proud of, and what I would have done differently - and in the three minutes they kept us in suspense, I relived the whole thing all over again with a huge smile on my face.
Q. Gina, RealityWanted: How do you feel about Whitney's win?
A. David: Without question, Whitney deserved to win - there's no one else I would have preferred to see standing next to me and take the title. She has so much natural talent at her age, it's scary - I can only imagine where she'll be with her cooking in a few years. Some of the things she cooked for the first time were as if she had been making them her whole life, and don't even get me started on baking! Whitney is going to do so much with the title, cookbook, and prize money to truly follow her dreams; more so than any of the rest of us, I know it - I just hope she brings me a couple of profiteroles when she's in town.
Q. Gina, RealityWanted: What is next for you? Big plans?
A. David: If they weren't big, they wouldn't be plans now, would they? Honestly, my focus right now is my wedding, which is in Vegas in less than three weeks. Although, I've been approached by folks wondering if I'd write a cookbook, do cooking classes, open a restaurant, or like to have my own TV show. I would hate to waste such an opportunity, so I will definitely be pursuing something. My dream is to host the show I've always wanted: showing college students how to drop their expensive meal plans and cook better food in their dorm rooms with little more than a toaster oven and a hot plate. That's really how I started cooking, and I'd love to pass that on - who knows, maybe be the inspiration behind the next American MasterChef.

(Image courtesy of Fox)

Follow Gina at twitter.com/ginascarpa
For more MasterChef links, visit SirLinksALot.net