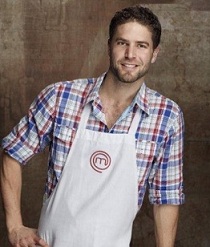 by Gina Scarpa
On the season finale of MasterChef, Lee Knaz cooked and plated his way into the final four and was matched up against Whitney Miller in a semi-final cookoff. He was ultimately defeated, and she went on to win the entire competition, but this is not the end of Lee's story. Competing on MasterChef has only motivated him to continue pursuing his passion and he talked about that and more in an exclusive interview with RealityWanted today.
Q. Gina, RealityWanted: When did your interest in cooking first begin?
A. Lee: My interest in cooking stems strictly from my love to eat! About a year and a half ago, I moved into an apartment with an awesome kitchen so I started fooling around with different ingredients and techniques and everything starting clicking together.

Q. Gina, RealityWanted: Were you at all nervous to present your dishes to Gordon, Graham, and Joe? Who was the toughest of the three?
A. Lee: For anybody that's passionate about cooking, those three are intimidating because they care so much about the craft. However, those are definitely constructive nerves. For me, the toughest judge was Gordon. My Mediterranean style spoke to Joe's heart, I believe, and Graham was a fan of my overall passion approach. Gordon, however, was a bit harder to impress.

Q. Gina, RealityWanted: You and Sharone developed a little bit of a rivalry. Where did that stem from?
A. Lee: I believe it was nothing but good old competitive drive. He started off strong and made sure to let everyone around him know about it. That made me put the target on his back. For the most part, all I was concerned about was producing the best dish in any given challenge and not be consumed by petty drama.

Q. Gina, RealityWanted: Which of your fellow contestants really impressed you and why?
A. Lee: We all came in with different styles, backgrounds, and skill levels. I learned something from everyone on the show without exception which is what made the experience as powerful as it was. Some of the contestants are friends for life.

Q. Gina, RealityWanted: What was the best dish you served this season?
A. Lee: The dish I am most proud of was my beef tenderloin dish that I made for the romance challenge. I truly believe I put a part of myself on a plate. To have the judges praise it as they did means the world to me.

Q. Gina, RealityWanted: Going into the cookoff against Whitney, were you feeling confident?
A. Lee: I was feeling good and knew I had a strong chance to make it to the final two. Considering Whitney's style, I knew I had to make myself stand out while taking some risks.

Q. Gina, RealityWanted: Can you tell us a little bit about what it meant to you to have your family there to support you in that semi-final round, especially your mother?
A. Lee: I cook for my loved ones out of a joy to please them. My girlfriend enjoys it on a daily basis and it was great to have her there because her support is a huge part of my driving force. My mom lives 7,000 miles away and I am lucky enough to see her once a year. To have her there, and to be able to share my passion and calling in life with her for the first time, was greater than any competition or challenge.

Q. Gina, RealityWanted: What are your thoughts on Whitney's win?
A. Lee: The judges have spoken and there is no arguing with that. I respect her drive and positive approach and believe that with the right training, she can reach new heights in the culinary world.

Q. Gina, RealityWanted: What's next for you?
A. Lee: The show was the final proof for me that I belong in the business of culinary creations. There are several projects lined up that I am extremely excited about! This opportunity opened many doors and I intend to utilize them as much as possible.
(Image courtesy of Fox)
Follow Gina at twitter.com/ginascarpa
For more MasterChef links, visit SirLinksALot.net