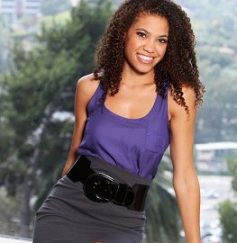 by Gina Scarpa
Perhaps Monet chose the wrong person to align with or perhaps she just didn't take the time to bond with the HOH but there was no getting around her eviction this week on Big Brother.  She was nominated against her BFF in the house, Britney, who was able to save herself from the block after winning the POV competition.  HOH Rachel put Matt up, as a pawn, in her place, and the house voted to kick Monet out.  Today, she spoke to RealityWanted in an exclusive interview about her friendship with Britney, her feelings towards Rachel, and her experiences in the game.
Q. Gina, RealityWanted: Were you a fan of Big Brother in the past? What made you decide to try out for the show?
A. Monet: I was. I've watched Big Brother since season one. I wanted to be on the show so I went to an open casting call to see what happened and I made it on the show.
Q. Gina, RealityWanted: What was it about Britney that drew you to her?
A. Monet: I think I liked her personality. We got along really well. She just made my time in the Big Brother house so much easier and less stressful - if that is even possible. Once I got to know her, I realized that she is the type of person I would hang out with outside of the house.
Q. Gina, RealityWanted: Was there anyone else that you were hoping to pull into your alliance in order to gain more control in the house?
A. Monet: I think that it would have been better for us if we had been able to get Lane or Hayden in our alliances. Hayden is playing with Kristen though, I think.
Q. Gina, RealityWanted: Do you feel that the house should have gotten rid of Matt instead of you? Why?
A. Monet: Absolutely! Matt is a strong competitor and he is going to do what he needs to do to appease people and stay in the game. The house had an amazing opportunity to get out a really strong competitor really early in the game but instead they voted me out.
Q. Gina, RealityWanted: You told Julie that you didn't apologize for the things you said about Rachel. Would you be friends with her outside of the game?
A. Monet: No, I wouldn't.
Q. Gina, RealityWanted: Who do you think is playing the best game right now?
A. Monet: I guess Lane.
Q. Gina, RealityWanted: If you had stayed in the house, what was your next move?
A. Monet: Ideally, I would have played really hard to win the HOH and then nominated Brendon and Rachel to go on the block. I also would have liked to see Kristen go.

Find out who the new HOH is on Big Brother, tomorrow night at 8/7c on CBS.
(Image courtesy of CBS)

Follow Gina at twitter.com/ginascarpa
For more Big Brother links, visit SirLinksALot.net