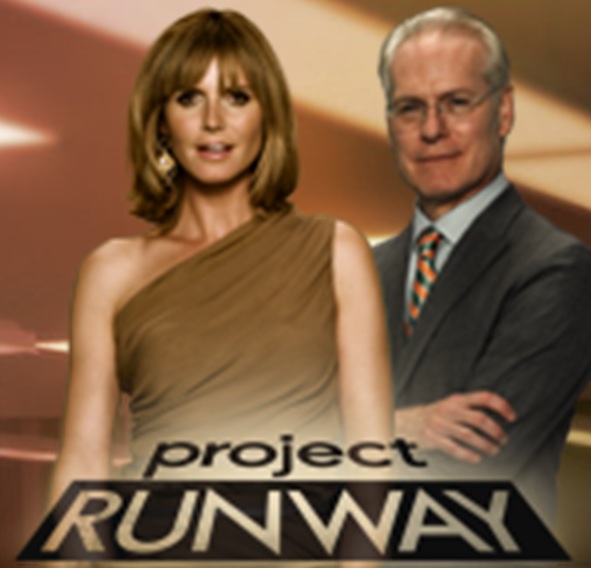 by Danae Young
Project Runway is back for its 8th season and it is better than ever! This is the most designers they have ever had in the series history, which means there will be an expanded 90-minute version of television's top fashion design series!
The following 17 designers will be facing crazy surprises, eliminations, and challenges along their journey through Project Runway, which was nominated for two Primetime Emmy Awards.
Here are the new season eight designers!
- A.J. Thouvenot, 26 - Hometown: St. Louis, MO; Resides in St. Charles, MO
- Andy South, 23 - Hometown: Waipahu, HI; Resides in Honolulu, HI
- April Johnston, 21 - Hometown: Mooresville, NC; Resides in Savannah, GA
- Casanova, 33 - Hometown: Fajardo, Puerto Rico; Resides in Astoria, NY
- Christopher Collins, 30 - Hometown: Encinitas, CA; Resides in San Francisco, CA  
- Gretchen Jones, 28 - Hometown: Fairplay, CO; Resides in Portland, OR
- Ivy Higa, 30 - Hometown: Seoul, South Korea/Kaihula-Kona, HI; Resides in New York, NY
- Jason Troisi, 33 - Hometown: Greenwich, CT; Resides in Greenwich, CT
- Kristin Haskins-Simms, 38 - Hometown: Philadelphia, PA; Resides in Philadelphia, PA
- McKell Maddox, 29 - Hometown: Brigham City, UT; Resides in Layton, UT
- Michael Costello, 27 - Hometown: Los Angeles, CA; Resides in Palm Desert, CA
- Michael Drummond, 31 - Hometown: St. Louis, MO; Resides in St. Louis, MO
- Mondo Guerra, 32 - Hometown: Denver, CO; Resides in Denver, CO
- Nicolas D'Aurizio, 31 - Hometown: Hackensack, NJ; Resides in New York, NY
- Peach Carr, 50- Hometown: Winfield, IL; Resides in Lake Forest, IL
- Sarah Trost, 27 - Hometown: Frazier Park, CA; Resides in Toluca Lake, CA
- Valerie Mayen, 28  - Hometown: Corpus Christi, TX; Resides in Cleveland, OH
Not only is Project Runway returning, but so are all of the extra perks such as designer and judge video blogs, Rate the Runway photo galleries, as well as blogs by mentor Tim Gunn and fan-favorite designers from past seasons.
Also, Tim Gunn's Workroom will continue to showcase his critiques of the contestants' garments-in-progress, and the interactive Designer Portfolios will display the designers' previous work along with sketches made before the show and throughout the season. 
Project Runway enthusiasts can also interact with fellow fans, show insiders and designers by following @projectrunway on Twitter or visiting facebook.com/projectrunway for the latest Project Runway news and updates.
Project Runway premieres Thursday, July 29 at 9/8c on Lifetime Television with actress Selma Blair as the first guest judge!
(Image courtesy of Lifetime)
Follow Danae at twitter.com/danaeyoung
For more Project Runway links, visit SirLinksALot.net